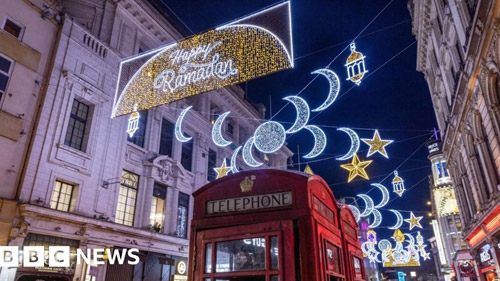 The Islamization of Great Britain is on full display in Central London's iconic West End which has been decorated for the first time to mark the Islamic holy month of Ramadan. Countries across the Middle East, from Turkey to Iran celebrated the news in their media.
The Muslim holiday is expected to begin on Wednesday 22 March, although it could come a day later if the moon isn't sighted, and end on Friday 21 April.
London's Coventry Street, which connects two of the city's busiest squares – Piccadilly and Leicester Square has been illuminated with the message "Happy Ramadan" along with lights depicting crescent moons and stars and traditional lanterns known as fanoos which are commonly used to decorate streets across the Middle East for the fasting month.
Sign up for our free e-mail list to see future vaticancatholic.com videos and articles.