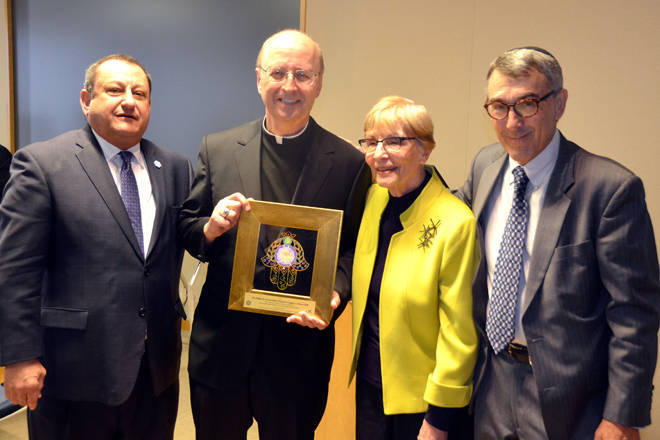 "Abbot Primate Gregory Polan displays the plaque he received from Marvin Szneler, Jewish Community Relations Bureau/American Jewish Committee Exec. Director at a luncheon in his honor Feb. 16. WIth them are retired Rabbi Alan Cohen and Judy Hellman, JCRB/AHC Associate Exec. Director. (Marty Denzer/Key photo)"
Hosted by the Jewish Community Relations Bureau/American Jewish Committee, about 80 men and women, including Marvin Szneler, JCRB/AJC Executive Director, Kansas City, Kansas Archbishop Joseph F. Naumann, Benedictine Sister Anne Shepard, Prioress of Mount St. Scholastica Monastery, Atchison, Kan., Jesuit Father Tom Curran, President of Rockhurst University, retired Rabbi Alan Cohen, former senior Rabbi, Congregation Beth Shalom, and his wife Linda, Benedictine monks of Conception Abbey, Judy Hellman, Associate Executive Director, JCRB/AJC, priests from both the Diocese of Kansas City-St. Joseph and the Archdiocese of Kansas City in Kan., several religious sisters and many friends, joined to wish Abbot Polan well in his new role as head of the world's 7,000 Benedictine monks.
Abbot Polan, fondly known as Abbot Gregory, was elected Abbot Primate Sept. 10, 2016, the highest office in the 1,500-year old order. As the 10th Abbot Primate elected since the office was created by Pope Leo XIII in 1886, and successor to Abbot Emeritus Dr. Notker Wolf, OSB, Abbot Gregory serves as liaison to the Pope, and the connector between the various Benedictine monasteries throughout the world. He also serves as Abbot of Sant' Anselmo Monastery in Rome, his residence when not traveling. He is the second abbot of Conception Abbey to be so elected by the Congress of Abbots; the first was Abbot Marcel Rooney, 1996 – 2000.
In July 2005, Abbot Gregory was appointed chair of the Kansas City-St. Joseph Diocesan Ecumenical and Interreligious Commission by then-Bishop Robert Finn. He began 'forging paths of unity, mutual understanding and friendship, sometimes successfully and sometimes with more to be learned and understood,' Abbot Gregory said...
Remarks from several religious leaders present at the luncheon and video remarks from several unable to attend, including Bishop James Johnston, Jr., recognized and affirmed that relationship.
Archbishop Naumann praised Abbot Gregory for working to build bridges between communities of faith.
Rabbi Cohen, who traveled from his Florida home to attend the luncheon, compared Abbot Gregory to Jethro, a priest of Midian who became Moses' non-Hebrew father-in-law. Jethro (Yitro in the Torah) is the only portion of the Torah named for someone outside the Israelite or Jewish community, Rabbi Cohen said. Jethro is known for crossing boundaries between Israelite and non-Israelite communities, offering his daughter Zipporah to Moses as his wife, and giving Moses a description of a judicial system that could be managed with efficiency, proper resources and with justice and mercy. Rabbi Cohen spoke of the Jewish High Holy Days, 'when we pray to the God of Justice and Mercy, our Parent and our Ruler' explaining that justice and mercy are key components of Judaism, of society, and of Abbot Gregory, whom he hailed as a modern-day Jethro — an 'individual who reaches across boundaries, bringing us together, a modern priest of Midian' embodying Jethro's qualities 'to draw people together, bring a sense of justice and mercy, compassion and fair dealing; all those things that provide us the ability to build bridges of community together.'
Along with the video greetings from Bishop Johnston, Father Paul Turner, pastor of St. Anthony Parish in Kansas City and Diocesan Ecumenical Director, Rabbi David Rosen, International Director of Interreligious Affairs, AJC, and Dr. Molly Marshall, president of Central Baptist Theological Seminary, Shawnee, Kan., also sent greetings.
Abbot Gregory was introduced by attorney Michael J. Abrams, a partner with Lathrop and Gage, LLP, whose 22nd-floor meeting room was the luncheon's venue. Abrams, who is past JCRB/AJC chair, gave a brief biography of Abbot Gregory, then recalled his synagogue being greatly impressed when the 'Benedictine monk from Northwest Missouri gave a beautiful sermon, partly in Hebrew, on the weekly portion of the Torah' read that particular day.
Abbot Gregory thanked Szneler and JCRB/AJC members, Lathrop and Gage and all in attendance for being there, and mentioned that on 'the 40th anniversary of the Promulgation of the document Nostra Aetate, which opened doors which had been too long closed to the development of friendship between Christians and Jews,' that he met Rabbi Cohen and his wife Linda, Marvin Szneler, Steve Israelite, Judy Hellman and her husband Lloyd. From them, he learned a 'wonderful spirit of cooperation and mutual efforts to do something good, together, for the Church and the Synagogue in Kansas City.' He read some quotes about friends, including, 'Friends are special, be sure in this earthly life to treasure them . . . Friends are the most important part of your life; treasure the tears, treasure the laughter, but mostly, treasure the memories,' and concluded with 'Those who are pure of heart and gracious of speech will have God (the king) as their friend.' (Proverbs 22:11)...
Szneler also said that Abbot Gregory's 'commitment to interfaith relations was more than talking the talk. It was walking the walk and driving the drive' to meetings...
Szneler, on behalf of JCRB/AJC, presented Abbot Gregory with a plaque commemorating the event, the mutual friendship, and love and respect between the abbot and the Jewish community. The luncheon concluded with a chanting of Psalm 150 by Father Brendan Moss, OSB, president-rector of Conception Seminary College.
Abbot Primate Gregory was soon to return to Rome to continue his work."
Sign up for our free e-mail list to see future vaticancatholic.com videos and articles.