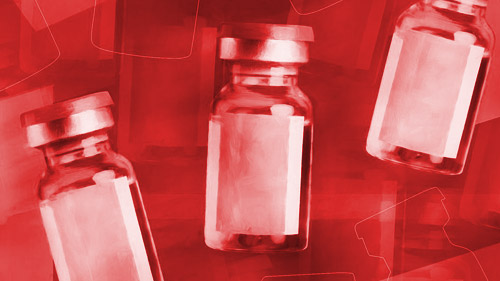 "In late 2020, Brianne Dressen began to spend hours in online communities for people with Long Covid, a chronic, disabling syndrome that can follow a bout with the virus. 'For months, I just lurked there,' says Dressen, a former preschool teacher in Saratoga Springs, Utah, 'reviewing post after post of symptoms that were just like my own.'
Dressen had never had COVID-19. But that November, she'd received a dose of AstraZeneca's vaccine as a volunteer in a clinical trial. By that evening, her vision blurred and sound became distorted—'I felt like I had two seashells on my ears,' she says. Her symptoms rapidly worsened and multiplied, ultimately including heart rate fluctuations, severe muscle weakness, and what she describes as debilitating internal electric shocks.
A doctor diagnosed her with anxiety. Her husband, Brian Dressen, a chemist, began to comb the scientific literature, desperate to help his wife, a former rock climber who now spent most of her time in a darkened room, unable to brush her teeth or tolerate her young children's touch.
As time passed, the Dressens found other people who had experienced serious, long-lasting health problems after a COVID-19 vaccine, regardless of the manufacturer. By January 2021, researchers at the National Institutes of Health (NIH) began to hear about such reports and sought to learn more, bringing Brianne Dressen and other affected people to the agency's headquarters for testing and sometimes treatment.
The research was small in scale and drew no conclusions about whether or how vaccines may have caused rare, lasting health problems. The patients had 'temporal associations' between vaccination and their faltering health, says Avindra Nath, clinical director at the National Institute of Neurological Disorders and Stroke (NINDS), who has been leading the NIH efforts. But 'an etiological association? I don't know.' In other words, he does not know whether vaccination directly caused the subsequent health problems...
Brianne Dressen, for her part, went public. She says she was frustrated when it appeared that regulators, including FDA, were not promptly investigating the apparent side effects...
Jana Ruhrländer, too, feels caught. After a single dose of the Moderna vaccine, the microbiology graduate student in Kassel, Germany, developed symptoms including the sensation of internal electric shocks Brianne Dressen experienced, partial facial paralysis, muscle weakness that left her terrified she was having seizures or a stroke, intense thirst, and wild swings in her heart rate and blood pressure. Doctors dismissed her, saying their tests found nothing wrong...
Despite her experience, 'I still think the vaccines are great,' Ruhrländer says. And the mRNA technology 'has so much potential.' But these side effects, which for her have improved somewhat but haven't disappeared, should be acknowledged and understood, she says. 'We have to speak openly about it.'"
Sign up for our free e-mail list to see future vaticancatholic.com videos and articles.