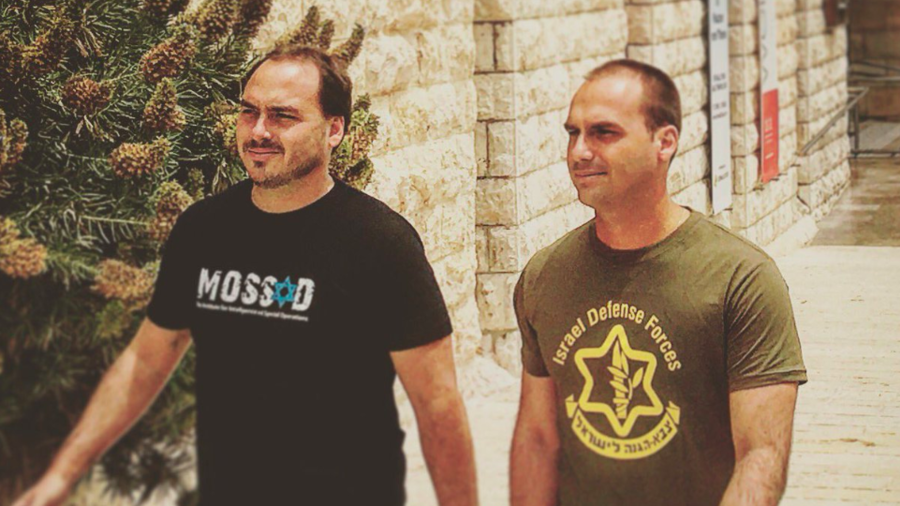 A photograph of Brazilian president-elect Jair Bolsonaro's sons sporting IDF and Mossad t-shirts has gone viral. RT set out to verify the image and find out the story behind it.
The photograph, showing Eduardo and Carlos Bolsonaro walking in Israel, is getting attention on social media in the wake of right-wing Bolsonaro's election win. The siblings are pictured donning t-shirts advertising Israel's intelligence service, Mossad, and the Israel Defense Forces.
The image has circulated on social media and message boards. A search on forums like 4Chan and reverse image searches revealed the earliest available version of the image online, which came from Eduardo himself.
Eduardo, who is a member of Brazil's Chamber of Deputies and a member of his father's far-right Social Liberal Party, posted the image to Twitter back in May 2016, when he was in Israel with his family. "A first world country that values its armed forces and police," he wrote at the time.
País de 1º mundo valoriza suas FFAA e polícias. Mtos chegam a estampar camisas para turistas - com @CarlosBolsonaro pic.twitter.com/wHJOJNOddv

— Eduardo Bolsonaro 17 (@BolsonaroSP) May 13, 2016
Eduardo also tagged his brother Carlos, a member of Rio de Janeiro's Municipal Chamber and part of the right-wing Social Christian Party, in the tweet. The pair have a third brother, Flavio, who also attended the trip. The three are Bolsonaro's sons from his first of three marriages.
Shalom! 🇮🇱🇧🇷 - com @FlavioBolsonaro e @CarlosBolsonaro . pic.twitter.com/EUIfDloQNX

— Eduardo Bolsonaro 17 (@BolsonaroSP) May 6, 2016
Sign up for our free e-mail list to see future vaticancatholic.com videos and articles.