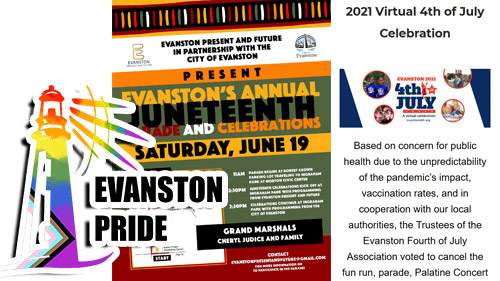 "The city of Evanston, Ill. is cancelling their fireworks for July 4, but will still hold a 'Juneteenth' celebration and LGBT pride parade.
This is part of the ongoing demoralization process against the American people, as national pride is decimated and replaced with the glorification of Black Lives Matter thugs and transgender drag queens.
'The Evanston Fourth of July Association has decided to cancel its fun run, parade, band performance and lakefront fireworks show for Independence Day this year,' the city wrote in their announcement.
Meanwhile, the city will celebrate Juneteenth and gay pride as the new diverse and multicultural country takes shape. The Juneteenth celebration will take place today at 11 a.m. led by sociology professor Cheryl Judice and Jason Powell, whose mother founded a popular local restaurant. The LGBT pride parade will take place next week.
'Help celebrate by joining Evanston Pride on Sat., June 26 for a drive-by house ("float") parade beginning at 1 p.m., a community picnic at James Park beginning at 3 p.m., and a Candle Lighting Ceremony and Memorial at the Morton Civic Center beginning at 7 p.m.,' the city announced."
Sign up for our free e-mail list to see future vaticancatholic.com videos and articles.