New Video Posted
"Exorcist Priest" Vincent Lampert - Demonic Activity And His Heretical Beliefs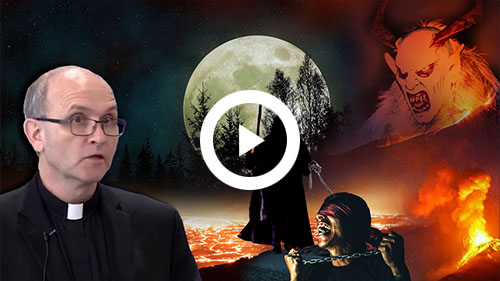 Gabriele Amorth, Muslims
The simple answer to your question is that Amorth was faithless and of bad will.  He was NOT opposed to the heresies and most important innovations of the Vatican II Sect.  He was blind.  In fact, he accepted the New Mass, the heretical documents of Vatican II, and denied the dogma Outside The Church There Is No Salvation.  For example, he stated: "Muslims who follow their religion are in good faith, and the Lord is aware of it." (Amorth, The Last Conversations, p. 73)  That's heresy.  He was a horrible heretic.  Those who think that John Paul II was good are really clueless.  Further, to think that John Paul II was good while being aware of John Paul II's false ecumenism is to reject God and the Catholic faith.  You should view these videos, among others:
https://endtimes.video/vatican-ii-new-religion/
https://endtimes.video/john-paul-ii-blasphemy-against-the-holy-spirit-his-spiritual-victims/
https://endtimes.video/the-antichrist-conquers-in-this-sign/
Sign up for our free e-mail list to see future vaticancatholic.com videos and articles.