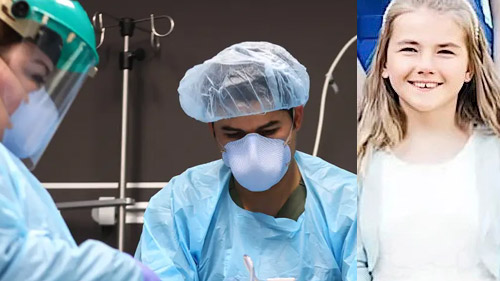 "A 14-year-old rescued orphan from Ukraine has been denied a life-saving kidney transplant because her parents will not have her 'vaccinated' with a COVID injection.
'I feel the same about this for my daughter Yulia as I do any of my eight biological children or other adopted children. Yulia is my child, and I am afraid that the COVID shot will kill her,' Chrissy Hicks told National File, adding that she has 'done the research' on the issue and has a medical background.
Yulia has Senior Løken syndrome, a rare genetic condition in which the kidneys and eyes gradually fail. She is currently on dialysis and needs a kidney transplant to live.
Despite previously being told by a doctor at Duke Children's Hospital that so-called COVID 'vaccines' were not required for kidney transplants, Chrissy and Lee Hicks were informed in November that Yulia needs the jab to receive a kidney transplant.
Chrissy explained that on October 7, she and her husband spoke to 'many doctors' at Duke and told LifeSiteNews that they were given conflicting accounts of the requirements for kidney transplants.
While Dr. Eileen Tsai Chambers, a pediatric kidney transplant specialist, said the COVID jab was required for such a transplant, Dr. Daniel Chang said the jab was 'highly recommended' but not mandatory, and that 'families had gotten transplants without it.'
Then, on November 9, wellness coordinator Catherine Thomas emailed the parents, informing them in a first email about what was 'recommended' for the transplant surgery, and in a second email with 'different verbiage,' what was 'required' for the operation.
Chrissy told LifeSiteNews that the selection criteria for kidney transplants did not specifically mention COVID 'vaccination' but indicated that 'medical recommendations' were to be adhered to.
On November 10, Yulia was flat-out denied a kidney transplant by the hospital committee charged with its oversight because her parents would not have her 'vaccinated' against COVID.
The denial culminated in a phone call on November 29 during which Chambers told the Hicks that COVID shots are now 'recommended' for pediatric kidney transplants because the CDC now 'recommen[ds]' the shots for 'all ages.'
'Because otherwise it wouldn't be medically safe for her to be transplanted,' Chambers told the parents."
Sign up for our free e-mail list to see future vaticancatholic.com videos and articles.