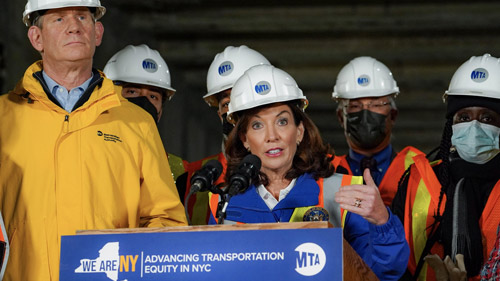 "Kathy Hochul's (D) plan to fire all unvaxxed workers and replace them with foreigners for refusing the so-called vaccines 'from god' is running into a roadblock.
From Advance Local, 'Hochul: No plans for MTA COVID vaccine mandate due to crew shortages':
On Monday, Gov. Kathy Hochul said the state doesn't plan to require coronavirus vaccines for MTA workers, claiming that a vaccine mandate would only exacerbate the existing crew shortages that have prompted reduced service.
Currently, MTA workers are required to be vaccinated or submit to weekly coronavirus testing, like other New York State employees.
'Our concern, as you mention shortages of crews, is the individuals who will not want to participate in a mandatory vaccination program will be individuals who would exacerbate that problem,' Hochul said. 'We do not want to make it impossible for the New York City workforce to have the proper transportation channels they're accustomed to.'
'We can't do anything to create a dynamic where there are no trains picking people up for their jobs in the morning or getting healthcare workers to their jobs in hospitals. So that's the calibration I keep referring to and we're going to stay with the plan for now,' she added.
On Sunday, the MTA announced that the city's trains and subways will be running on reduced service schedules from Monday, Dec. 27, through Thursday, Dec. 30, due to staffing shortages prompted by coronavirus cases among crew members."
Once again, the only successful American labor movement in the last 60 years pic.twitter.com/vHGTTWr3yH

— Second City Bureaucrat (@CityBureaucrat) December 24, 2021
Unvaxxed nurses were asked to come back to work because of staffing shortages pic.twitter.com/A0ilQCmdRF

— Libs of Tik Tok (@libsoftiktok) December 26, 2021
Sign up for our free e-mail list to see future vaticancatholic.com videos and articles.