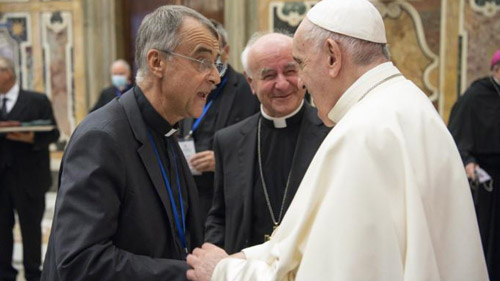 "The president of the 'John Paul II Institute for Studies on Marriage and the Family' – gutted by Pope Francis in 2019 – has defended blessings for same-sex couples, arguing that 'no one can be deprived of God's blessing.'
Monsignor Philippe Bordeyne issued his statement in a recent interview published by La Croix International, the English-language daily edited by La Croix – the unofficial daily of the French episcopate.
President of the Institute since fall 2021, Bordeyne denied that a blessing gives any endorsement of an activity or lifestyle, as 'its role is not to validate a practice.'
Instead, he stated that a blessing is simply 'a prayer addressed to God, to praise God, to ask God for help and protection. It concerns people, and possibly also objects in their relationship to people.'
He added that 'to bless, however, is to manifest the good that God 'says' about people and that God wants for them.'...
Upon his 2021 appointment to the gutted John Paul II Institute, Bordeyne was noted for his support of contraception, Holy Communion for the divorced and 'remarried' and openness to homosexual couples.
His latest interview is a continuation of arguments he has previously espoused in writing during last summer, when he argued for a change in approach to homosexuals and the Church's teaching on sexuality, from pastoral welcoming to 'integration' through 'discernment,' eventually leading to the reception of the sacraments in spite of an 'irregular situation.'"



If the crisis was not so grave, the stupidity of the Bergoglians would be laughable

Ivereigh @austeni and Mgr Bordeyne appear ignorant of the fact that Sodomites deny themselves God's blessing through being in a state of habitual, unrepented mortal sin pic.twitter.com/dT14APEtoU

— Nick Donnelly (@ProtecttheFaith) November 21, 2022
Sign up for our free e-mail list to see future vaticancatholic.com videos and articles.