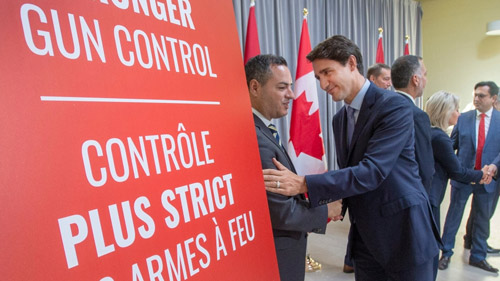 "Canadian Prime Minister Justin Trudeau announced Tuesday a new government effort to tighten gun control laws, with his Public Safety Minister reminding citizens that 'gun ownership in Canada… is a privilege and not a right.'
During a press conference, Trudeau pushed for new amendments to existing gun laws that would allow cities to ban handguns outright, as well as institute a new federal effort to buy back guns already in existence.
The prime minister also called for harsher penalties for unregulated gun sales and the importation of unregulated ammunition. 'You can't fight [gun violence] without addressing its root causes,' he said.
Trudeau's proposed policy would offer federal support to municipalities that rule the private possession, storage, and transportation of a handgun illegal. It also would impose a 'yellow flag' law that would allow government authorities to investigate and confiscate the weapons of individuals reported by friends or family members."
Sign up for our free e-mail list to see future vaticancatholic.com videos and articles.