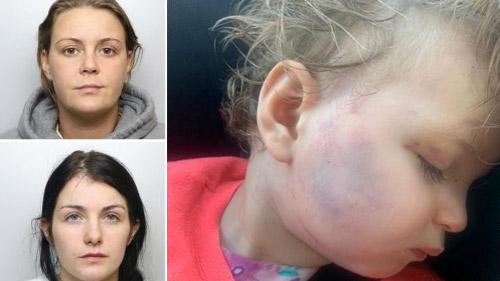 The sick "couple", 20-year-old Frankie Smith and her 28-year-old "girlfriend" Savannah Brockhill, choke-slammed the toddler, 16-month-old Star Hobson, as well as violently swinging her by the legs and hitting her in the face...
"Social workers investigating the couple who killed innocent Star Hobson cleared them five times – even declaring a referral to them was 'malicious' the week before she was murdered," reports the Daily Mail.
"The authorities fell for mother Frankie Smith, 20, and her 28-year-old girlfriend Savannah Brockhill's lies, despite a series of concerns raised by relatives."
The great grandparents of a baby girl who was brutally murdered by a lesbian "couple" tried to warn social services about the abuse on five separate occasions, only to be told they were being "homophobic" and racist...
Bradford City Council ignored repeated warnings from the baby's grandparents, believing the couple's excuse that the girl had fallen down the stairs.
The council ignored a total of five separate warnings from different people, before labeling the great grandparents homophobic and racist.
"The lack of response from social services was unbelievable, they did nothing..." said Star's great grandfather David Fawcett.
Sign up for our free e-mail list to see future vaticancatholic.com videos and articles.