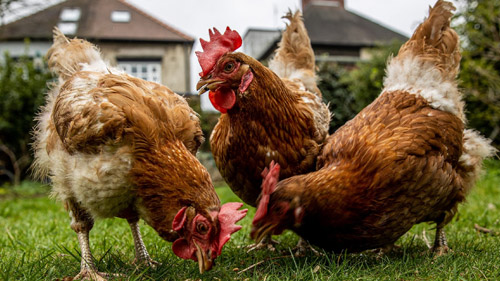 Chicken owners in Great Britain may soon have to register their birds with the government if proposed rules are approved.
According to The Guardian, backyard gardeners "who have birds for their own supply of eggs, or as pets" would be required to give information on their flocks over to UK authorities ostensibly to combat bird flu.
From The Guardian:
Under the proposed new rules, being consulted on by government, bird owners would also be required to update their information on an annual basis. They would have to provide information including their contact details, the location of where the birds are kept and details of the species, number and their use.
The Chief Veterinary Officers from England, Scotland and Wales all issued a joint statement claiming the move is necessary in order to keep the avian flu under control:
"These proposals will enable us to have a full picture of the number and location of birds kept across Great Britain and make it easier to track and manage the spread of avian disease.
"This information will also help inform future risk assessments and maintain our commitment to continually building our extensive avian influenza research portfolio."
Many online perceived the tyrannical move as an attack on freedom and residents who want to be self-sufficient.
Sign up for our free e-mail list to see future vaticancatholic.com videos and articles.