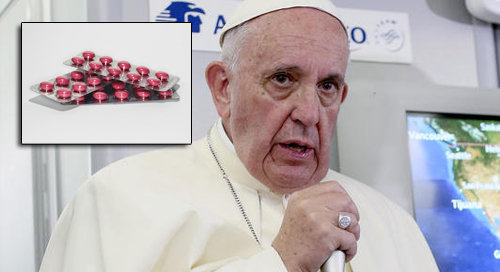 In his hour-long inflight news conference on his way from Juarez to Rome, Antipope Francis discussed a number of topics.  His words are reported here.  During the news conference Francis indicated that using contraceptives is permitted to stop the spread of 'Zika'.
"Paloma García Ovejero, Cadena COPE (Spain): Holy Father, for several weeks there's been a lot of concern in many Latin American countries but also in Europe regarding the Zika virus. The greatest risk would be for pregnant women. There is anguish. Some authorities have proposed abortion, or else to avoiding pregnancy. As regards avoiding pregnancy, on this issue, can the Church take into consideration the concept of "the lesser of two evils?"

Pope Francis: Abortion is not the lesser of two evils. It is a crime. It is to throw someone out in order to save another. That's what the Mafia does. It is a crime, an absolute evil. On the 'lesser evil,' avoiding pregnancy, we are speaking in terms of the conflict between the fifth and sixth commandment. Paul VI, a great man, in a difficult situation in Africa, permitted nuns to use contraceptives in cases of rape.

Don't confuse the evil of avoiding pregnancy by itself, with abortion. Abortion is not a theological problem, it is a human problem, it is a medical problem. You kill one person to save another, in the best case scenario. Or to live comfortably, no?  It's against the Hippocratic oaths doctors must take. It is an evil in and of itself, but it is not a religious evil in the beginning, no, it's a human evil. Then obviously, as with every human evil, each killing is condemned.

On the other hand, avoiding pregnancy is not an absolute evil. In certain cases, as in this one, or in the one I mentioned of Blessed Paul VI, it was clear. I would also urge doctors to do their utmost to find vaccines against these two mosquitoes that carry this disease. This needs to be worked on."
This latest act of Antipope Francis is causing more shock, wonder, and dismay among the followers of the Vatican II sect.  As we've explained, what we're seeing, their reaction, etc. is another example of the fulfillment of Apocalypse 17:8.  
Sign up for our free e-mail list to see future vaticancatholic.com videos and articles.