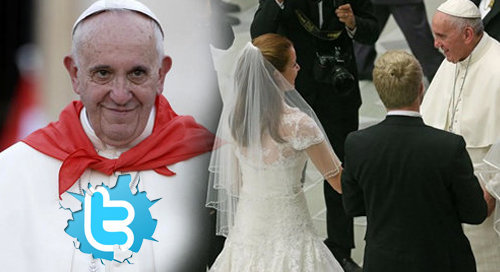 The divorced who have entered a new union should be made to feel part of the Church. They are not excommunicated.

— Pope Francis (@Pontifex) April 11, 2016
As many people know, Francis' "apostolic exhortation", Amoris Laetitia (The Joy of Love), officially teaches that people living in adultery and invalid 'second marriages' can be in the state of grace and may receive Holy Communion.  That means that the Vatican II sect under Antipope Francis now officially and publicly denies Catholic dogma on the indissolubility of marriage, as well as the Church's teaching that those living in adultery or second 'marriages' may not receive Communion.  Keep in mind that Amoris Laetitia (the document in which this revolutionary teaching is contained) is Francis' official teaching to the entire Vatican II Church.  It is addressed to all "bishops, priests, deacons, consecrated persons, couples, and lay faithful".  Obviously this is a major heresy that constitutes more infallible proof that Francis is a public heretic and an antipope.  His sect is obviously not the Catholic Church.  It is, rather, nothing more than a non-Catholic sect that allows divorce and 'remarriage'.  This development is, indeed, another smashing vindication of true Catholics who have been pointing out that the post-Vatican II claimants to the Papacy are not true popes.  It represents another humiliating defeat for false traditionalists and defenders of the Counter Church (e.g. groups like the SSPX).  The facts and reality have proven them and their false position to be totally wrong, once again.
Those who obstinately remain united with Antipope Francis are remaining united with a notorious heretic and a non-Catholic sect.  They are placing themselves outside the Catholic Church.
Many members of the Vatican II sect have admitted the obvious: Amoris Laetitia indeed teaches that people living in adultery or invalid second 'marriages' can be in the state of grace and may receive the sacraments, including Holy Communion.  Anyone who denies that the document contains this heretical teaching is a liar.  The teaching is clearly found in the following places (among others) - and keep in mind that the following two passages go together, as the latter is an explanatory footnote of the former:
Antipope Francis, Amoris Laetitia (#305), speaking of 'irregular' (i.e. adulterous) unions: "Because of forms of conditioning and mitigating factors, it is possible that in an objective situation of sin – which may not be subjectively culpable, or fully such – a person can be living in God's grace, can love and can also grow in the life of grace and charity, while receiving the Church's help to this end.351"

Antipope Francis, Amoris Laetitia, footnote #351, extension to #305: "In certain cases, this can include the help of the sacraments.  Hence, 'I want to remind priests that the confessional must not be a torture chamber, but rather an encounter with the Lord's mercy' (Apostolic Exhortation Evangelii Gaudium [24 November 2013], 44: AAS 105 [2013], 1038).  I would also point out that the Eucharist 'is not a prize for the perfect, but a powerful medicine and nourishment for the weak' (ibid., 47: 1039)."
The document's heretical teaching that people in adulterous situations and invalid second 'marriages' can be in the state of grace and may be admitted to Communion is very clear.  Francis' tweet is another example of his heretical audacity and pertinacity.  He is putting his revolutionary teaching in people's faces.  To remain under Antipope Francis is to adhere to a non-Catholic sect, the Vatican II Counter Church.
Indeed, Francis' latest heresy is an excellent example of why the Catholic Church teaches that people such as Antipope Francis, who teach notorious heresy and profess a false faith in the external forum, must not be considered in the Catholic Church or as men who hold office in the Catholic Church.  For multitudes who wrongly think that Francis is the pope will of course adopt and follow his false teaching on divorce and 'remarriage' and lose their souls as a result.  Hence, the defenders of Antipope Francis not only commit the grave of sin of obstinately remaining in communion with a notorious heretic and a non-Catholic sect, but they contribute to the damnation of countless others by telling them to recognize a man who is leading them into mortal sin and heresy by means of his official teaching.
Revealing Admissions About Francis' Huge Heresy On Divorce, 'Remarriage', And Communion
Sign up for our free e-mail list to see future vaticancatholic.com videos and articles.