Brother Michael Dimond Francis' Recent Heresies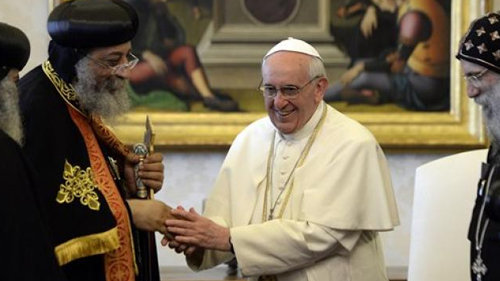 Francis' January 6, 2019 video message "to the Coptic Orthodox Church of Egypt":

"With joy I greet you all on the happy occasion of the dedication of the new Cathedral of the Nativity, built in the New Administrative Capital… I address a special greeting to my dear Brother, His Holiness Pope Tawadros II, and to the dear Coptic Orthodox Church, which has been able to bear a true testimony of faith… Dear brothers and sisters, you have martyrs who give strength to your faith. Thank you for your example… In the new Cathedral may the worship of God on high always be welcome, and may there descend His blessing…"[1]
Francis says it is a "happy occasion" to see the completion of a new (and very large) schismatic church.  Francis says the schismatic and heretical Coptic "Orthodox Church" and its leader (whom Francis calls "Holiness" and "Pope") "bear a true testimony of faith".  In addition to denying the Papacy, the "Coptic Orthodox" reject the Council of Chalcedon and the dogma that Jesus Christ, one divine Person (the Second Person of the Blessed Trinity), has two unconfused natures.
Council of Chalcedon, Definition of Faith, 451: "Therefore, following the holy fathers, we all with one accord teach men to acknowledge one and the same Son, our Lord Jesus Christ, at once complete in Godhead and complete in manhood, truly God and truly man, consisting also of a reasonable soul and body; of one substance with the Father as regards the Godhead, and at the same time of one substance with us as regards the manhood; like us in all respects, apart from sin; as regards the Godhead, begotten of the Father before the ages, but yet as regards the manhood begotten, for us men and for our salvation, of Mary the Virgin, the God-bearer; one and the same Christ, Son, Lord, Only-begotten, recognized in two natures, without confusion, without change, without division, without separation…"
The "Coptic Orthodox" are therefore manifest heretics for various reasons.  So, according to Francis, the notorious heresy and schism of "Coptic Orthodoxy" is the "true testimony of faith".  Francis also calls the heretical and schismatic sect "dear", an "example", and says they "have martyrs".  Francis is a heretic.
Notes:
[1] L'Osservatore Romano, January 11, 2019, p. 4.
Sign up for our free e-mail list to see future vaticancatholic.com videos and articles.