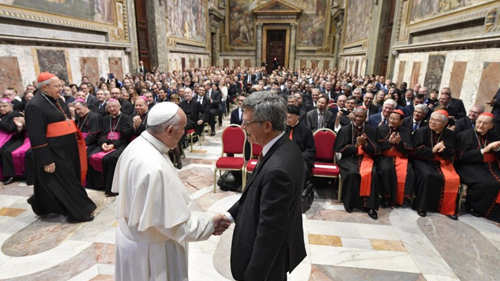 Francis' 9/23/19 address giving "instruction to Vatican communications employees":

"But what should communication be like? One of the things you must not do is advertising, mere advertising. You must not do what human businesses do, that try to attract more people... To use a technical word: you must not proselytize. I would like our communication to be Christian and not a factor of proselytism. It is not Christian to proselytize. Benedict XVI said this very clearly…"[1]
Francis says that it is not Christian to "try to attract more people" to the Catholic faith.
Francis' 6/21/19 discourse:

"At the center is evangelizing, which is not the same thing as proselytizing… This docility to the Spirit implies a style of life and proclamation that is without a spirit of conquest, without a desire to proselytize – which is baneful! – and without an aggressive intent to disprove the other… While 'dialogue' is not a magic formula, theology is certainly helped in its renewal when it takes it seriously, when it is encouraged and favored among teachers and students, as well as with other forms of knowledge and with other religions, especially Judaism and Islam."[2]
The heretic Francis says that not having a desire to disprove others and convert people is docility to the Holy Spirit.  Francis says the desire to convert people is "baneful", which means "productive of destruction or woe: seriously harmful"[3].
Francis' 6/6/19 speech "to participants in the Congress for the Pastoral Care of vocations in Europe":

"When one speaks of vocations, many things come to mind, many things to say, that one might think or do… But I would like, first of all, to clarify one thing: work for vocations, with vocations, must not be, is not proselytism. It is not a question of 'seeking out new members for this club'. No. It must move along the lines of growth as Benedict XVI so clearly said: the growth of the Church is by attraction, not by proselytism... I wished to clarify this, because the spirit of proselytism is harmful."[4]
Francis condemns seeking out new vocations.  He likewise condemns as "harmful" "the spirit" of attempting to convert people.
Notes:
[1] L'Osservatore Romano, September 27, 2019, p. 5.
[2] L'Osservatore Romano, June 28, 2019, pp. 8-9.
[3] https://www.merriam-webster.com/dictionary/baneful
[4] L'Osservatore Romano, June 21, 2019, p. 11.
Sign up for our free e-mail list to see future vaticancatholic.com videos and articles.