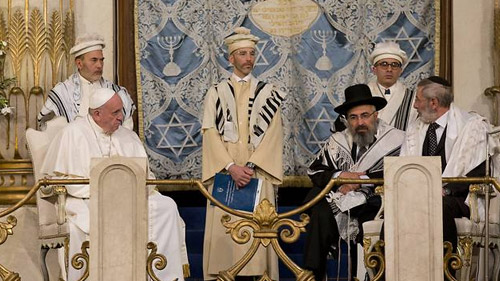 MHFM: The apostate Antipope Francis spent his Sunday with his fellow unbelievers in Rome's Jewish synagogue.  The apostate also told the Jews:"... you are our brothers and sisters in the faith.  We all belong to one family, the family of God, who accompanies and protects us, His people." (Vatican Radio)  Francis' statement is, of course, blatant heresy.  It is the opposite of what the Church and the New Testament teach.   By rejecting Jesus Christ, the Son of God, and His Church, Jews do not have the Father.  They are outside the family of God and on the road to perdition.  "Whoever denies the Son does not have the Father..." (1 John 2:23).  Francis' statement denies the Church's teaching, and the necessity of Jesus Christ, Baptism, and the Catholic faith to be part of the family of God and be saved.  Francis' synagogue trip is another public mortal sin and act of apostasy.
"Francis on Sunday made his first visit to a synagogue as pontiff, citing an "unbreakable" bond between Jews and Christians as hundreds of armed security personnel were deployed for the Rome visit.
Francis is the third pope to visit the Great Synagogue in Italy's capital after John-Paul II in 1986 and Benedict XVI in 2010.
Located just across the River Tiber from the Vatican, it stands in an area still known as the Ghetto where under the orders of some of Francis's predecessors, Jews were confined for more than three centuries until their emancipation at the end of the 19th Century.
Evoking "the unbreakable bond between Jews and Christians", the pope delivered a message of peace.
"Violence against men is in contradiction with any religion worthy of the name, and in particular the big monotheist religions," he said, in his first visit to a synagogue since being elected pope in 2013.
He urged rejection of "all forms of anti-Semitism", saying: "we must condemn any abuse, any discrimination and persecution stemming from it."
Sign up for our free e-mail list to see future vaticancatholic.com videos and articles.