Brother Michael Dimond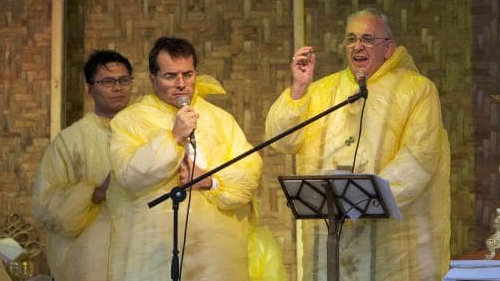 Francis' July 6, 2018 discourse:

"You have also gathered to testify to the urgent need to respond to the Encyclical's call for change, for an ecological conversion... Along with states, local authorities, civil society, and economic and religious institutions can promote the culture and practice of an integral ecology. I trust that events such as the Global Climate Action Summit, to be held from 12-14 September in San Francisco, will provide suitable responses, with the support of citizens' pressure groups worldwide... In the words of Saint John Paul II: 'We must encourage and support an… ecological conversion…' (Catechesis, 17 January 2001). Here the religions, and the Christian Churches in particular, have a key role to play. The Day of Prayer for Creation and its associated initiatives, begun in the Orthodox Church, are beginning to spread among Christian communities throughout the world."[1]
There is an "urgent need for an ecological conversion", according to Antipope Francis.  Actually, there is an urgent need for conversions to the true Catholic faith – a faith that Antipope Francis rejects.  The eco-heretic Francis promotes radical environmentalist "pressure groups".  He quotes the heretic Antipope John Paul II, who said: "we must encourage and support an ecological conversion".  The apostate Francis also says that various false religions "have a key role to play".
[1] L'Osservatore Romano, July 20, 2018, p. 5.
Sign up for our free e-mail list to see future vaticancatholic.com videos and articles.