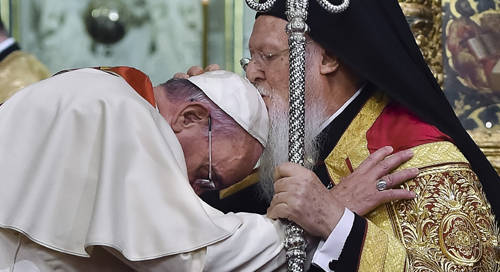 Francis' November 17, 2016 interview with the newspaper Avvenire:

Question: "Why was it so important to commemorate the 500th anniversary of the Lutheran Reformation in Sweden? Was it a big step forward?"

Francis: "The meeting with the Lutheran Church in Lund was a further step in the ecumenical journey that began 50 years ago with the Lutheran-Catholic theological dialogue, culminating in the Joint Declaration on the Doctrine of Justification signed in 1999..."

Question: "You also said to Patriarch Kirill of Moscow that 'unity is achieved by walking forward', that 'unity will not come about as a miracle in the end; walking together is already unity'. You repeat this often. But what does this mean?"

Francis: "… unity is a grace that one must ask for, and it's also why I say that every form of proselytism among Christians is sinful. The Church never grows through proselytism… Proselytism among Christians itself is therefore a serious sin for Christians."

Question: "Why?"

Francis: "Because it contradicts the very dynamic by which we become and remain Christians. The Church is not a soccer team in search of fans"

Question: "What means, therefore, are to be used in the quest for unity?"

Francis: "Fully engaging in the process rather than just taking up space is also key in the ecumenical journey.  At this moment in history, unity must be pursued in three ways: by performing works of charity together, by praying together, and by acknowledging the common confession as expressed in the common martyrion (witness) received in the name of Christ: in the ecumenism of blood. It is there that the Evil One makes no mistake in this. And these are all expressions of visible unity. Praying together is something visible. Performing works of charity together is something visible. Sharing martyrdom in the name of Christ is something visible."[1]
Comment: Francis says that any form of attempting to convert a non-Catholic who claims to be Christian to the Catholic faith is sinful.  Francis declares that anyone who attempts to convert those non-Catholics to the Catholic faith commits "a serious sin" (a mortal sin)!  Francis also once again encourages the mortally sinful activity of praying with non-Catholics.  Francis also promotes the non-Catholic "martyrs" heresy (which he teaches all the time).  He says the "martyrdom" of heretics manifests the "visible unity" of the Church.  Francis believes the "visible Church" includes non-Catholic sects that claim to be Christian.  That is heresy.  The visible Church is only manifest in the Catholic Church and the true Catholic faithful.
Francis' November 10, 2016 discourse on "Christian unity" to "the Pontifical Council for Promoting Christian Unity":

"… unity is not uniformity... unity is not absorption. Christian unity does not imply an ecumenism 'in reverse', by which some might deny their own history of faith; nor does it tolerate proselytism, which is, rather, a poison for the journey of ecumenism."[2]
Unity is uniformity.  Unity means oneness.  Francis then says that unity is not attempting to convert non-Catholics to the Catholic faith.  Francis declares that non-Catholics should not deny their "history of faith".  He ends his heretical discourse by asserting that the effort to convert non-Catholics to the Catholic faith is a "poison".
For more of Antipope Francis' horrible heresies from November 2016, click here: Antipope Francis' Notable Heresies and Apostasy from November 2016
Notes:
[1] L' Osservatore Romano, December 2, 2016, pp. 6-7.
[2] L' Osservatore Romano, November 18, 2016, pp. 3-4.
Sign up for our free e-mail list to see future vaticancatholic.com videos and articles.