Brother Michael Dimond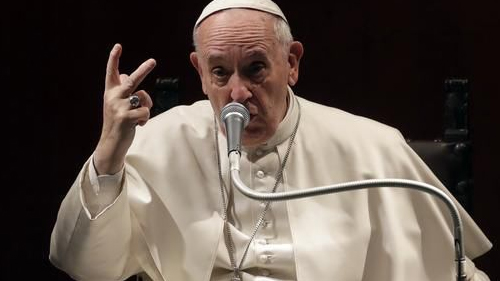 On April 15, 2018 Francis paid a visit and met with people from a suburban neighborhood on the west side of Rome.  A young child named Emanuele asked Francis a question.  Below is how L'Osservatore Romano (the de facto official newspaper of the Vatican) reported what was said by Francis:

"When it was Emanuele's turn to ask the Pontiff his question, the child burst into tears and the Pope gathered him in a warm embrace, telling him to whisper it in his ear, and asking the boy if he could share it with the others.  The crowd erupted in applause as the Pope read out the question Emanuele had prepared, asking if his father, who had recently passed away, might be in heaven.  Even though his father was an atheist, the boy had explained, he'd had all his four children baptized.  'That man did not have the gift of faith; he was not a believer', the Pope said, 'but he baptized his children.  He had a good heart and passed it on to his children.  And God', the Pope added, 'has the heart of a father.  Do you think that God would be able to leave him far from Him?  God' the Pope told Emanuele, 'was surely proud of your father because being a non believer, it must not have been an easy decision to have his children baptized.  And this pleased God very much'.  Thanking Emanuele for his 'courage', the Pope invited him to 'speak' with his father and to pray for him."[1]
A child tells Antipope Francis that his dad was an atheist (and died as an atheist).  The child wants to know if his dad might be in Heaven.  Francis says the atheist "had a good heart", that God was "proud" of him, and that the deceased atheist can be prayed for.  Francis thus teaches that you can die as an atheist and go to Heaven!  He is a heretic and an apostate.
All of the official speeches and writings of the men who claim to be Pope (in recent history) are contained in the de facto official newspaper of the Vatican, L'Osservatore Romano. The first issue of the newspaper was published in Rome on July 1, 1861.[2]  The first weekly issue in English was published on April 4, 1968.  So, April 2018 marks 50 years since the first weekly edition of L'Osservatore Romano was made available in English.  Around 20 years ago I began receiving issues of L'Osservatore Romano and later I got the back issues going back to April 4, 1968.  I have now personally gone through more than 50 years of weekly editions.  This has amounted to going through thousands of weekly issues.  The numerous weekly issues over the years have covered Antipope Paul VI to the apostate Antipope Francis.  By reading these issues one can easily find irrefutable proof that the recent Vatican II antipopes were (and are) heretics and apostates. Over the years we have tried to provide updates that expose the heresies and apostasy of these antipopes.  The goal is to make people realize that these men are not Catholic and therefore cannot be popes.  It is also to expose false teachings that are contrary to the true faith of the Catholic Church.
Notes:
[1] L'Osservatore Romano, April 20, 2018, p. 8.
[2] https://en.wikipedia.org/wiki/L%27Osservatore_Romano
Sign up for our free e-mail list to see future vaticancatholic.com videos and articles.