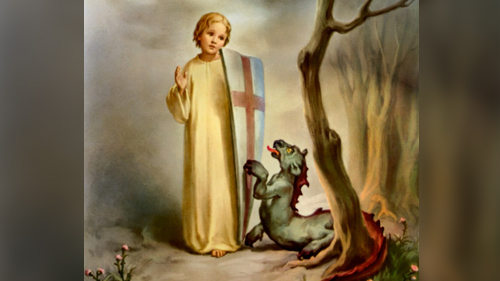 Dear MHFM,
I would like to share the following combination of biblical quotes from the Douay Rheims Bible that I hope may have the same profound effect on the fortitude of others in giving up sin as they did on me...
1-Realize God's care for every detail of our existence...
[Acts of the Apostles 17:26-27]
[26] "And hath made of one, all mankind, to dwell upon the whole face of the earth, determining appointed times, and the limits of their habitation. [27] That they should seek God, if happily they may feel after him or find him, although he be not far from every one of us:"
2-Understand the value of the virtue of fortitude...
[Wisdom 8:7]
"And if a man love justice: her labours have great virtues; for she teacheth temperance, and prudence, and justice, and fortitude, which are such things as men can have nothing more profitable in life."
3-Understand the seriousness of perverted thoughts, words or deeds...
[Proverbs 11:20]
"A perverse heart is abominable to the Lord: ....."
4-Understand also God's merciful purpose in trying what we harbour in our hearts...
[Wisdom 1:3]
"For perverse thoughts separate us from God: and His power, when it is tried, reproveth the unwise"
5-You are commanded to resist the temptations of the devil...
[James 4:17]
"Be subject therefore to God, but resist the devil, and he will fly from thee".
6-By Jesus' example the obligation to resist is evident...
[Matthew 4:9-11]
"And said to him: All these will I give thee, if falling down thou wilt adore me. [10] Then Jesus saith to him; Begone, Satan: for it is written, The Lord thy God shalt thou adore; and Him only shalt thou serve. [11] Then the devil left him;"
7-Opportunities to resist the devil come to us from God the Father who tries our hearts so that we may be proved...
[Psalms 66:10]
"For thou, O God, hast proved us: thou hast tried us, as silver is tried".
[Proverbs 17:3]
"The fining pot is for silver, and the furnace for gold: but the Lord trieth the hearts".
[Job 23:10]
"But he knoweth the way that I take: when he hath tried me, I shall come forth as gold".
8-God the Father uses the devil to try our hearts...
[Job 1:6]
"Now on a certain day when the sons of God came to stand before the Lord, Satan also was present among them..."
[Challoner] "The sons of God": The angels.-- Ibid. Satan also, etc. This passage represents to us in a figure, accommodated to the ways and understandings of men:
1. The restless endeavors of Satan against the servants of God;
2. That he can do nothing without God's permission;
3. That God doth not permit him to tempt them above their strength: but assists them by his divine grace in such manner, that the vain efforts of the enemy only serve to illustrate their virtue and increase their merit.
9-Challoner notes that God does not permit temptations above our ability to [as] confirmed... in the following...
[1 Corinthians 10-13]
"Let no temptation take hold on you but such as is human. And God is FAITHFUL, who will not suffer you to be tempted above that which you are able: but will make also with temptation issue, that you may be able to bear it".
10-God tries us because "Power is made perfect in infirmity"...
[St Paul 2nd Epistle to the Corinthians Chapter 12].
"And lest the greatness of the revelations should exalt me, there was given me a sting of the flesh, an angel of Satan, to buffet me. [8]  For which thing thrice I besought the Lord, that it might depart from me. [9]
And he said to me: My grace is sufficient for thee; for power is made perfect in infirmity. Gladly therefore will I glory in my infirmities, that the power of Christ may dwell in me. [10] For which cause I please myself in my infirmities, in reproaches, in necessities, in persecutions, in distresses, for Christ. For when I am weak, then am I powerful.
Challoner - [9] "Power is made perfect": The strength and power of God more perfectly shines forth in our weakness and infirmity; as the more weak we are of ourselves, the more illustrious (evident) is his grace in supporting us, and giving us the victory under all trials and conflicts.
11-God's faithfulness to us is as that of a spouse...
[Prophecy of Osee (Hosea) Chapter 2:19-20].
"And I will ESPOUSE thee to Me for ever: and I will espouse thee to Me in justice, and judgement, and in mercy, and in commiserations. [20] And I will ESPOUSE thee to Me in FAITH: and thou shalt know that I am the Lord".
12-God wants His spouse to be faithful in return...
[2nd Epistle of St Paul to the Corinthians]
"[2] For I am jealous of you with the jealously of God.  For I have espoused you to ONE husband that I may present you as a chaste virgin to Christ".
13-We show our faithfulness to God our spouse for not trying us above our ability to resist by resisting the devil and glorifying God in our body, choosing Him over Satan in times of temptation...
[1st Epistle of St Paul to the Corinthians Chapter 6:19-20]
"Or know you not, that your members are the temple of the Holy Ghost, who is in you, whom you have from God; and you are not your own ?. [20] For you are bought with a great price. Glorify and bear God in your body".
14-Understand what is required of you to glorify God in your body...
[Matthew 5:28]
"But I say to you, that whosoever shall look on a woman to lust after her, hath already committed adultery with her in his heart".
[Tobias 6:22]
"And when the third night is past, thou shalt take the virgin with the fear of the Lord, moved rather for love of children than for lust, that in the seed of Abraham thou mayest obtain a blessing in children".
15-Understand that without God's grace we can do nothing...
[John 15:4]
"Abide in me and I in you. As the branch cannot bear fruit of itself, unless it abide in the vine, so neither you unless you abide in me". [5] I am the vine: you are the branches: he that abideth in me, and I in him, the same beareth much fruit: for without me you can do nothing"
[St Paul - Corinthians 1: 8-10]
"[8] And last of all, he was seen also by me, as by one born out of due time. [9] For I am the least of the apostles, who am not worthy to be called an apostle, because I persecuted the church of God. [10] But by the grace of God, I am what I am; and his grace in me hath not been void, but I have laboured more abundantly than all they: yet not I, but the grace of God with me"
Pray the Holy Rosary devoutly.
May God bless you all.
Anon.
Sign up for our free e-mail list to see future vaticancatholic.com videos and articles.