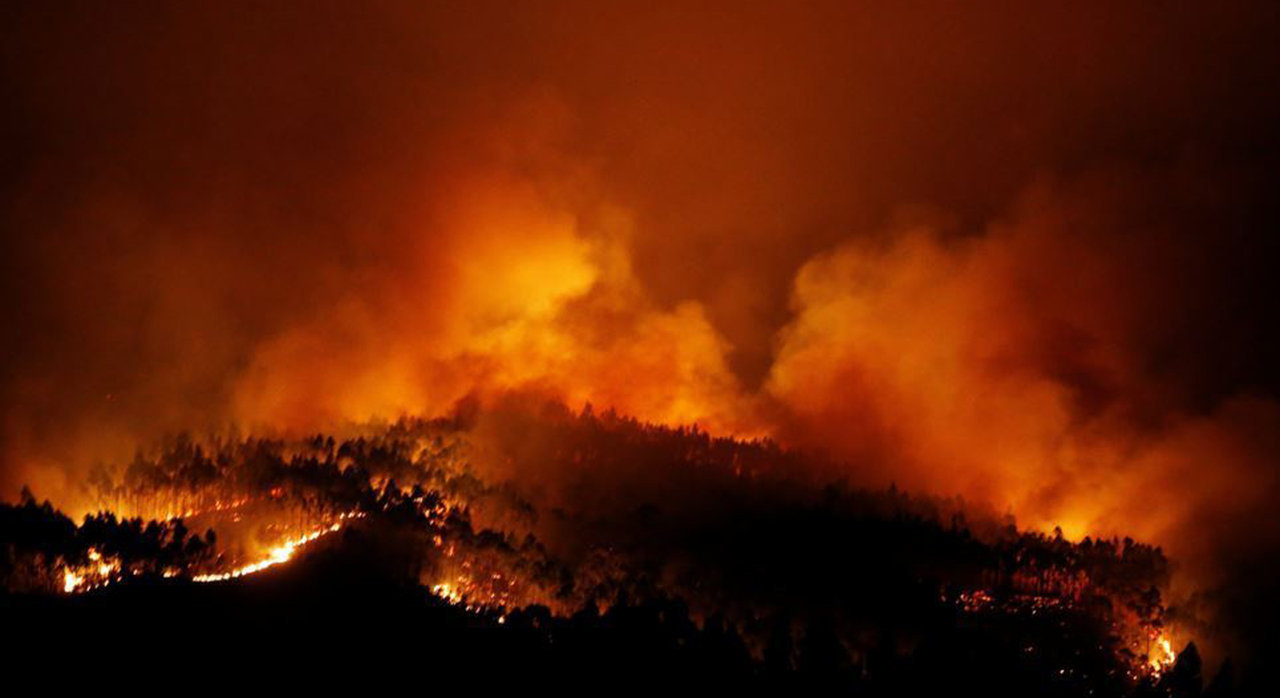 On June 17 2017, a forest fire in Pedrógão Grande, Portugal, killed at least 62 and injured others. Here are some interesting facts about this incident considering that we are living through the 100th anniversary of the 1917 Fatima apparitions:
— The tragedy is being labelled the greatest human tragedy in Portugal's history.
"The fire, which was still burning on Sunday afternoon, has brought 'a dimension of human tragedy that we cannot remember,' Prime Minister António Costa said during a visit to the scorched area around Pedrógão Grande." (https://www.nytimes.com/2017/06/18/world/europe/portugal-pedrogao-grande-forest-fires.html?_r=0)
— The location where the fire began is relatively close to Fatima.  The fire is still active and it could spread to forests even nearer to Fatima.
— The incident happened on the time frame on which the apparitions of Fatima were taking place in 1917.
— Although forest fires are quite common in Portugal, it is thought that about 90% of them have human causes, intentional or otherwise. However, it seems that this one was caused by a thunderstorm. Considering Portugal's apostasy from the faith, I believe this information is relevant. In the Old Testament, one of the plagues brought upon Egypt by God was lightning followed by fire:
Exodus 9:23 — "And Moses stretched forth his rod towards heaven, and the Lord sent thunder and hail, and lightning running along the ground… And the hail and fire mixed with it drove on together: and it was of so great bigness, as never before was seen in the whole land of Egypt since that nation was founded."
It is interesting also that one news source here in Portugal titled an article about this event as "the fire that came from nowhere".
— Yet another sign of divine vengeance is what has been reported by news sources: "Many cars could not get out and people burned to death inside their cars." (http://edition.cnn.com/2017/06/18/europe/portugal-fire/index.html)
A specialist said that the temperature inside some cars reached 600° celcius (1112° F), making the task of identifying the burned corpses all the more difficult. This reminds me of the vision of Hell that Our Lady gave to the seers of Fatima.
Rafael Centeio
The Vision of Hell shown by Our Lady of Fatima to the children: "As the Lady spoke the last words, she opened Her hands once more, as she had done the two previous months.  The rays [of light] appeared to penetrate the earth, and we saw, as it were, a vast sea of fire. Plunged in this fire, we saw the demons and the souls [of the damned]. The latter were like transparent burning embers, all blackened or burnished bronze, having human forms.  They were floating about in that conflagration, now raised into the air by the flames which issued from within themselves, together with great clouds of smoke.  Now they fell back on every side like sparks in huge fires, without weight or equilibrium, amid shrieks and groans of pain and despair, which horrified us and made us tremble with fright (it must have been this sight which caused me to cry out, as people say they heard me).  The demons were distinguished [from the souls of the damned] by their terrifying and repellent likeness to frightful and unknown animals, black and transparent like burning coals.  That vision only lasted for a moment, thanks to our good Heavenly Mother, Who at the first apparition had promised to take us to Heaven. Without that, I think that we would have died of terror and fear."
"You see Hell, where the souls of poor sinners go.  To save them God wishes to establish in the world the devotion to my Immaculate Heart," Our Lady said.
It's important to pray 15 decades of the Rosary each day and the Hail Mary frequently. How to Pray the Rosary [PDF]
Sign up for our free e-mail list to see future vaticancatholic.com videos and articles.