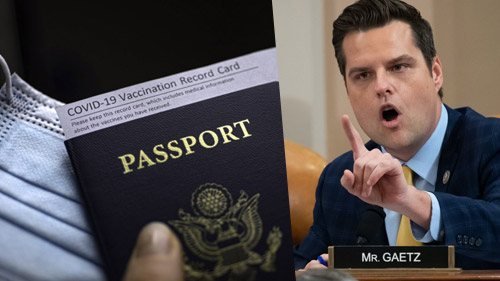 "Florida Rep. Matt Gaetz recently introduced H.R. 3660, or the Digital Health Pass Prevention Act (DHPPA) of 2021, that would ban all federal support for vaccine passports.
If passed, the bill would prevent the federal government from funding and enforcing any program that uses digital health passes, which are used to verify an individual's coronavirus (COVID-19) vaccination status unrelated to official health care records.
The bill is co-sponsored by Texas Reps. Louie Gohmert and Lance Gooden – both Republicans like Gaetz.
'We will not allow the public health bureaucracy to be a new entity to drain our liberty away in the United States of America. The federal government has no business asking Americans for their vaccination status, and they should not have the ability to use taxpayer funds to support third parties who do," Gaetz said.
'Americans will not trade mask mandates for vaccine mandates. I urge every freedom fighter in Congress to join my efforts to ban federal support for vaccine passports."
Gaetz's home state is known for vigorously opposing vaccine passports. (Related: Florida lawmakers pass bill banning vaccine passports in the state.)
Last month, Florida Gov. Ron DeSantis signed Senate Bill (SB) 2006. The bill takes aim at vaccine passports and arbitrary lockdowns while enhancing emergency preparedness for future emergencies.
'In Florida, your personal choice regarding vaccinations will be protected and no business or government entity will be able to deny you services based on your decision," said DeSantis.
'Over the last year we've avoided protracted lockdowns and school closures in Florida because I have refused to take the same approach as other lockdown governors. This legislation ensures that legal safeguards are in place so that local governments cannot arbitrarily close our schools or businesses.'
SB 2006 will ensure that neither the state nor local governments can close businesses or keep students out of in-person classes at Florida schools, except during hurricane emergencies.
The legislation codifies the prohibition of COVID-19 vaccine passports. DeSantis enacted this prohibition through an executive order in April, blocking any business or government entity from requiring proof of COVID-19 vaccination."
Sign up for our free e-mail list to see future vaticancatholic.com videos and articles.