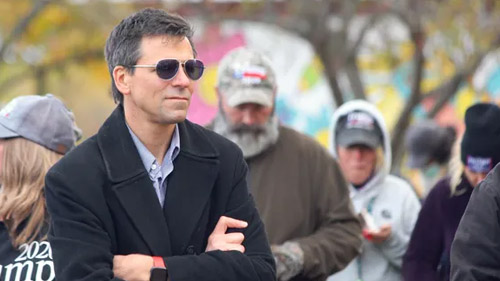 A federal judge ordered Michigan GOP gubernatorial candidate Ryan Kelley to turn in his guns due to his pending misdemeanor charges, which he has said are politically motivated.
Federal prosecutors have filed four misdemeanor charges against Kelley, who was near the Capitol complex on January 6, 2021, but said he never entered buildings. The charges include "knowingly enter[ing] or remain[ing] in any restricted building or grounds without lawful authority to do," which can include sectioned off areas not necessarily inside a physical building.
Kelley's attorney asked Judge Robin Meriweather "to make an exception for Kelley to the firearm ban — which has been a standard condition of release for about 800 people charged in connection with the U.S. Capitol riot on Jan. 6, 2021," the Detroit Free Press reported.
Kelley does not have paid security and wants to be able to carry as a matter of personal protection as a political candidate. He is the favored candidate among Republicans for the gubernatorial nomination to take on Democratic Governor Gretchen Whitmer in November.
He previously told LifeSiteNews that the criminal charges would not slow him down.
"This doesn't change anything. We're full speed ahead. The governor's race is still on," he told LifeSite on June 9 after being arrested by the Federal Bureau of Investigation. "If you didn't know me before, you know me now. Nothing changes with the race."
There will be a preliminary hearing on July 7...
Kelley told Tucker Carlson recently that he believes the arrest and charges are politically motivated.
"There is no coincidence in the timing of this," Kelley said. "It's right in alignment with all this political theater that the Democrats are pushing with their J-6 committee, and there's no coincidence here," he said June 13.
He noted the arrest came just 12 hours after President Joe Biden joked about putting his political opponents in jail.
"They've waited this long to go after Ryan once they knew he was the frontrunner for the Republican race," she said. "He's building and gaining momentum. So obviously this was a political move to discredit Ryan."
Sign up for our free e-mail list to see future vaticancatholic.com videos and articles.