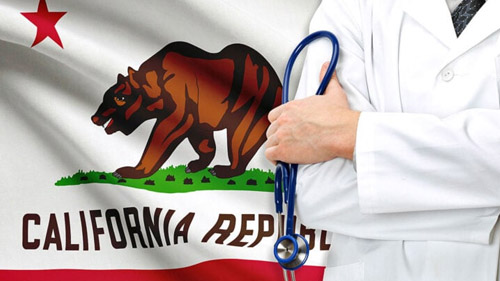 A federal judge in California on Wednesday granted Children's Health Defense–California Chapter's request for a preliminary injunction to block a California law that would have allowed the state's medical boards to punish doctors for spreading "COVID-19 misinformation."
In his 30-page opinion, Senior U.S. District Judge William Shubb determined the defendants in the case – California Gov. Gavin Newsom, Attorney General Rob Bonta, and California Medical and Osteopathic Boards – provided "no evidence that 'scientific consensus' has any established technical meaning," and that the law provides "no clarity" on the meaning of the word "misinformation."
Judge Shubb also found the "plaintiffs have established a likelihood of success on the grounds of their Fourteenth Amendment vagueness challenges."
The ruling pertains to a lawsuit filed December 1, 2022, in the U.S. District Court for the Eastern District of California on behalf of plaintiffs CHD-California Chapter, Dr. LeTrinh Hoang and Physicians for Informed Consent.
The lawsuit was filed after Newsom, on September 30, 2022, signed California Assembly Bill 2098 (AB 2098), which was set to take effect January 1.
AB 2098 bars doctors "from providing 'treatment or advice' 'to a patient' 'related to COVID-19' when that treatment or advice includes (1) 'false information' (2) 'that is contradicted by contemporary scientific consensus' (3) 'contrary to the standard of care.' If a doctor goes against this ill-defined 'consensus,' the doctor is guilty of 'unprofessional conduct' and can face disciplinary action."
Judge Shubb's ruling prevents enforcement of AB 2098 pending resolution of the lawsuit.
According to lead counsel Rick Jaffe, "Judge Shubb looked at the law and correctly determined that the COVID misinformation was unconstitutionally vague, in large part because the plaintiffs in both cases showed there is no 'current scientific consensus,' given the fast-changing pace of the pandemic."...
AB 2098 was introduced in February 2022 by California Assemblymember Evan Low, who had previously formed the Vaccine Work Group with six other Democratic lawmakers, with the intent of developing legislation promoting COVID-19 vaccines and "battling misinformation."
The bill, which garnered the support of the American Medical Association for its efforts to address public health "disinformation," passed the California Assembly in May 2022, and the California Senate in late August 2022, before Newsom signed it into law.
Sign up for our free e-mail list to see future vaticancatholic.com videos and articles.