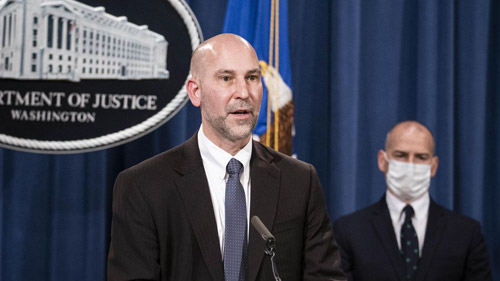 The Washington, D.C. FBI field office that raided former President Trump's Mar-a-Lago residence and is investigating the Jan. 6 riot Capitol breach is headed by Steven D'Antuono, who ran the bureau's Detroit field office that cooked up the false flag plot to kidnap Gov. Gretchen Whitmer (D-Mich.) in the run-up to the 2020 election.
A week after arrests were made in the FBI's Whitmer kidnapping entrapment scheme in October 2020, D'Antuono was promoted by FBI Director Christopher Wray to head the Washington field office.
Under D'Antuono's charge, the FBI's Washington field office arrested, investigated, and charged 850 Americans for mostly nonviolent offenses related to the January 6 protest.
"The FBI will leave no stone unturned. This is a 24/7, full bore, extensive operation," D'Antuono said during a January 12, 2021 press conference at the Department of Justice. "As Director Wray says, the FBI does not do easy."
He added that the FBI "will be knocking on your door if we find out you were part of the criminal activity at the Capitol."
In April 2022, two men charged with creating the plot to kidnap Whitmer were found not guilty by a jury after evidence emerged in court that the scheme was orchestrated and spearheaded by the FBI.
From AM Greatness:
That's because it wasn't an investigation; it was a set up. No fewer than a dozen FBI undercover agents and informants worked at the direction of FBI officials in numerous field offices to engineer the scam. Agents with D'Antuono's office in Detroit hired and handled the lead informant, a man named Dan Chappel, to stitch the group of alleged kidnappers together over a seven month period beginning in early 2020.
Chappel, along with his FBI collaborators, organized meetings and excursions, paid for travel expenses and dining, created a fake militia and Facebook page to lure targets into the trap, and encouraged the targets to discuss violent plans for Whitmer and other politicians. Their targets were often high on marijuana but that didn't stop the FBI informants and undercover agents from recording at least 1,000 hours of mostly stoned conversations to produce evidence.
Two other men already pleaded guilty to the kidnapping plot.
And on Tuesday, another pair of men were found guilty of all charges related to the FBI's Whitmer kidnapping operation after a jury initially failed to reach a verdict in April.
A key difference between the retrial and the first case in April was the judge limiting cross-examination by the defense, specifically related to arguments about the FBI's lead role in facilitating the kidnapping plot.
As jury selection began in the Whitmer kidnapping retrial, D'Antuono's agents raided Trump's Mar-a-Lago resort on Aug. 8, allegedly to seize classified documents.
The common denominator between the FBI's Whitmer kidnapping scheme, its January 6 mass arrests, and its raid on Mar-a-Lago is the prima facie appearance of political persecution against Democrat opponents — with D'Antuono leading the charge.
The D'Antuono connection is so apparent that even Trump brought attention to it Tuesday on his platform Truth Social.
Sign up for our free e-mail list to see future vaticancatholic.com videos and articles.