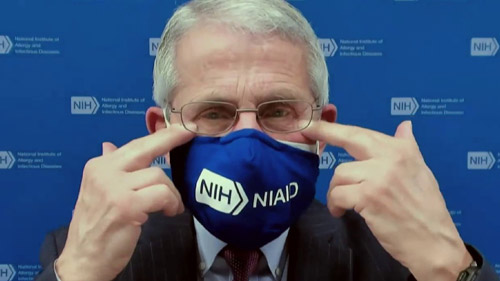 "Dr. Anthony Fauci provided some insight regarding the accuracy of metrics used for counting positive COVID-19 cases in children. On Wednesday night, Fauci told MSNBC's Ayman Mohyeldin that since all children are tested for COVID-19 when they enter a hospital, regardless of the reason they are there, that many children are hospitalized 'with COVID' rather than 'because of COVID.' Because of that, some COVID-19 cases can be 'over counted,' Fauci said.
Keen observers would note that many people skeptical of the official COVID-19 count have argued that exact scenario was happening for quite some time...
'But the other important thing is that if you look at the children who are hospitalized, many of them are hospitalized with COVID as opposed to because of COVID,' Fauci added. 'And what we mean by that — if a child goes in the hospital, they automatically get tested for COVID. And they get counted as a COVID-hospitalized individual. When in fact, they may go in for a broken leg or appendicitis or something like that. So it's over-counting the number of children who are, quote, 'hospitalized with COVID,' as opposed to because of COVID.'...
Even in May of this year, researchers at Stanford stated that people were vastly overestimating childhood COVID-19 cases for the exact same reasons that Fauci laid out Wednesday. Fauci — of course — made no mention that over-counting COVID-19 cases was not a novel idea and that others had theorized this was happening before.
A reasonable assumption could be made that if hospitals are doing this for children — and failing to differentiate between patients 'with COVID' vs. patients in the hospital 'because of COVID' — then it is possible they are doing this for adults as well."
Sign up for our free e-mail list to see future vaticancatholic.com videos and articles.