Cavan Sieczkowski huffingtonpost.com The story of a gay waitress who was reportedly denied a tip and received a homophobic note on a restaurant receipt took an even stranger turn when the family implicated in the incident came forward to deny the whole thing. Dayna Morales, a Marine and server at Gallop Asian Bistro in Bridgewater, N.J., made headlines earlier this month when she posted an anti-gay receipt note on Facebook. In her post, she claimed a family came into the restaurant, called her by the name "Dan" and neglected to leave a tip. She claimed she found a note on their bill, reading, "I'm sorry but I cannot tip because I don't agree with your lifestyle & how you live your life." "I am THOROUGHLY offended mad pissed off and hurt that THIS is what her kids will grow up learning and that I served in the Marines to keep ignorant people like them free," Morales wrote on Facebook. The story was picked up by multiple news outlets and went viral. Thousands of dollars in donations came flooding in for Morales from all over the world. She later said she planned to give a portion to the Wounded Warriors Project. Now, the family has come forward claiming it's a scam. A husband and wife, who wish to remain anonymous, spoke with New York's WNBC and showed the network a copy of their $93.55 receipt, printed on the same day and the same minute as the one Morales photographed for Facebook. However, instead of a $0 tip, there was an $18 tip written on the customer copy presented by the family. To verify this further, the two also showed their Visa bill to prove they were charged a total of $111.55. SIDE-BY-SIDE RECEIPTS FROM WNBC (Story continues below.)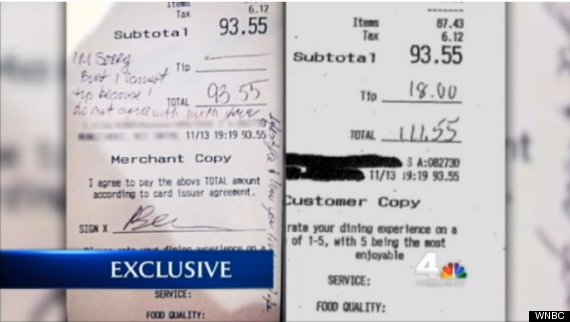 The wife claims it's not her handwriting on the bill posted online and thinks Morales "doctored up our check." The husband called it a "disgusting thing to do," "shameful" and "dishonorable." When WNBC confronted Morales, she replied: "That's not my handwriting. I don't know. Again, I don't know." "Right now we have no comment, pending an internal investigation," a spokesperson for the restaurant told The Huffington Post on Tuesday. This is not the first time controversy has erupted over a receipt. In September, a Red Lobster waitress in Tennessee was allegedly left a racist message with the n-word in lieu of a tip. She received more than $10,000 in donations from supporters online. But, last month, the man accused came forward and denied he ever wrote the n-word on the receipt. He now plans to sue the franchise.
Sign up for our free e-mail list to see future vaticancatholic.com videos and articles.