lifesitenews.com
February 24, 2021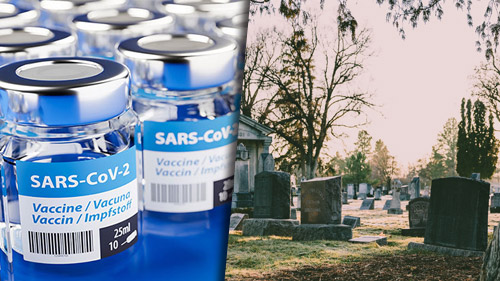 "Facebook users have identified people who posted having a COVID-19 vaccination and then dying within hours.
The most recent Facebook post of 39-year-old Brittany Hall Perez of Atlanta on January 12, for example, shows her wearing a mask while holding up a vaccination card with the slogan, 'SAVE LIVES. Say Yes to COVID-19 vaccine,' and framing her photo. An obituary for Brittany Hall Perez of Owens Cross Roads, Alabama on Tribute Archive announced the death of the mother of two young girls on January 13, but does not say how she died.
Other Facebook users have pointed to the latest post of Julie Schlachter Splattstoesser, a 50-year-old from Grand Island, Nebraska, whose Facebook page features the motto 'The love of a family is life's greatest blessing' and shows her most recent post on December 31, 2020 with her husband and a heart-shaped logo saying, 'I GOT MY COVID-19 VACCINE!'
An obituary in The Grand Island Independent states that Splattstoesser, the mother of five sons, died 'unexpectedly' on December 31, 2020. She had been A Clinical Research Coordinator at CHI Health Cancer Treatment Center.
A report (ID 0918518-1) from the government's Vaccine Adverse Event Report System (VAERS) describes a 50-year-old Nebraska woman who died December 31, 2020, on the same day that she received a Moderna vaccine after suffering from 'cardio-respiratory arrest.'
A few deaths following vaccinations have been reported in the mainstream media. A celebrated 68-year-old Detroit news anchor died suddenly the day after she received a COVID-19 vaccine, CBS Detroit reported.
Karen Hudson-Samuel, who had been a Detroit media celebrity for decades, was found dead at her home by her husband, though the cause of her death is still unknown.
'We suspect it may have just been a stroke, but because of the normal side effects of the vaccine it may have masked that. Hopefully, we'll know soon from the autopsy report,' her husband, Cliff Samuels, told the news outlet.
A man in his 70s collapsed 25 minutes after receiving a COVID-19 vaccine at the Javits Center in New York, KVOA News reported. He died later in hospital and New York health officials said he did not have an allergic reaction.
The Windsor Star reported that a woman's death after the COVID-19 vaccination was being investigated but provided few details.
As of February 12, 929 deaths, 616 life-threatening adverse events, 316 cases of permanent disability, and more than 5,000 hospitalizations and emergency room visits after COVID vaccinations were reported to VAERS, which is updated weekly...
There are numerous reports of nursing home residents dying after COVID vaccinations. VAERS data descriptions of hundreds of cases of life-threatening and disabling illnesses include allergic shock reactions (anaphylaxis), paralysis, Guillain Barré Syndrome, sudden hearing loss, sudden blindness, seizures, strokes, and encephalitis."
Sign up for our free e-mail list to see future vaticancatholic.com videos and articles.