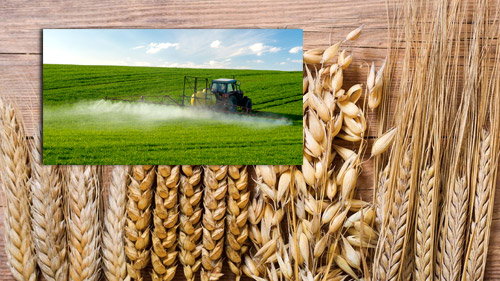 The Environmental Protection Agency (EPA) is facilitating a new chemical experiment across wheat, barley and oat crops in the United States. For the first time ever, the EPA approved widespread application of chlormequat chloride — a pesticide/growth retardant that has a toxic profile for birds, mammals, and human reproduction.
According to the National Institutes of Health, chlormequat chloride was listed in the EPA's Extremely Hazardous Substances (EHS) Chemical Profiles and Emergency First Aid Guides back in 1998. It is listed as an organic chloride salt and a quaternary ammonium salt that "appears as white crystals with a fishlike odor." The chemical functions as a growth regulator, forcing plants to produce sturdier, thicker stalks. The chemical will disrupt hormones and change the growth patterns of the plants, limiting the bending and breaking of the grain stalks.
Chlormequat harms fetal and postnatal development, fertility
Since 1962, chlormequat chloride has been used in greenhouses to control the growth of ornamental flowers and boost their continuity, but it has been restricted from widespread use on food crops, due to its toxic profile. Now, it will be used across the agricultural sector to boost wheat, barley, oat, and triticale production in the US, but this will come at a cost for both ecology and human health.
Dr. Phil Landrigan, a professor of public health and epidemiologist at Boston College, called out the EPA for failing to execute their "legal duty to protect infants and children against the toxic effects of pesticides." Landrigan said the EPA "appears not to have taken that responsibility seriously." Chlormequat residues will now multiply in the food supply and contaminate the groundwater.
Studies show that the chemical stunts more than just plant growth. A peer reviewed study found that rats exposed to the chemical have offspring with serious growth problems at the embryonic stage and in postnatal development.
Sign up for our free e-mail list to see future vaticancatholic.com videos and articles.