Kit Daniels infowars.com A pro-Obama "grassroots" organization sent out a mass e-mail from info@barackobama.com today, which practically accuses anyone who supports a ban on late-term abortions as being sexist.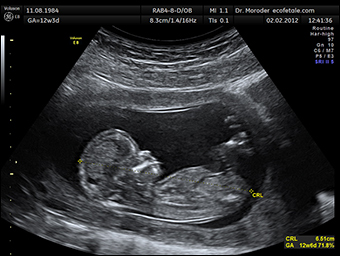 An ultrasound of a baby at 12 weeks and six days. Credit: Wolfgang Moroder via Wikipedia. Organizing For Action, a non-profit created out of Obama's 2012 campaign operation and described as "grassroots" even though it is based in Washington, D.C., wrote the e-mail in response to a citizen-initiated ordinance in Albuquerque, N.M. to ban abortions after 20 weeks of pregnancy. "Voters will cast ballots on November 19th on an initiative that would ban abortions after 20 weeks with virtually zero exceptions," the e-mail from info@barackobama.com read. "This is a serious attack on women — and it's a deliberate attempt by extreme interest groups to test their latest anti-women strategy." The e-mail directs readers to barackobama.com, which the group maintains. The organization is essentially labeling anyone who is against abortions after the 20th week of pregnancy, in which the baby begins to grow hair and can even react to loud sounds, as being sexist. to read more click here: infowars.com
Sign up for our free e-mail list to see future vaticancatholic.com videos and articles.