dailymail.uk
March 25, 2020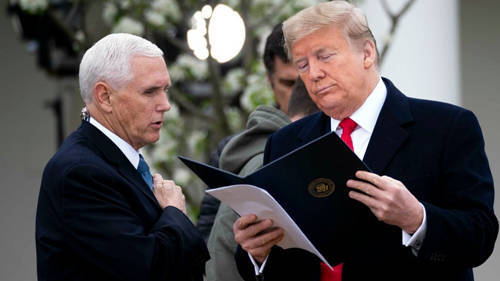 Democrats indicate they are finally ready to sign the phase three economic stimulus package Wednesday, which includes a measure that prohibits Donald Trump's family businesses from receiving benefits from the coronavirus relief.
Senators were finally able to strike a deal overnight on the $2 trillion rescue package to address the fallout from the coronavirus outbreak, after Democrats blocked the first two versions of the GOP-backed bill.
Senate Minority Leader Chuck Schumer wrote in a Dear Colleague letter early Wednesday that the new bill includes a provision to 'prohibit businesses controlled by the President, Vice President, Members of Congress, and heads of Executive Departments from receiving loans or investments from Treasury programs.'
'Our unity gave us important strength and leverage in negotiations,' Schumer lauded.
Sign up for our free e-mail list to see future vaticancatholic.com videos and articles.