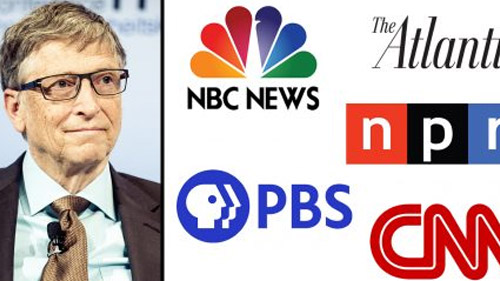 Up until his recent messy divorce, Bill Gates enjoyed something of a free pass in corporate media. Generally presented as a kindly nerd who wants to save the world, the Microsoft co-founder was even unironically christened "Saint Bill" by The Guardian.
While other billionaires' media empires are relatively well known, the extent to which Gates's cash underwrites the modern media landscape is not. After sorting through over 30,000 individual grants, MintPress can reveal that the Bill and Melinda Gates Foundation (BMGF) has made over $300 million worth of donations to fund media projects.
Recipients of this cash include many of America's most important news outlets, including CNN, NBC, NPR, PBS and The Atlantic. Gates also sponsors a myriad of influential foreign organizations, including the BBC, The Guardian, The Financial Times and The Daily Telegraph in the United Kingdom; prominent European newspapers such as Le Monde (France), Der Spiegel (Germany) and El País (Spain); as well as big global broadcasters like Al-Jazeera...
Despite flying more under the radar, Gates and his companies have amassed considerable influence in media. We already rely on Microsoft-owned products for communication (e.g. Skype, Hotmail), social media (LinkedIn), and entertainment (Microsoft XBox). Furthermore, the hardware and software we use to communicate often comes courtesy of the 66-year-old Seattleite. How many people reading this are doing so on a Microsoft Surface or Windows phone and doing so via Windows OS? Not only that, Microsoft owns stakes in media giants such as Comcast and AT&T. And the "MS" in MSNBC stands for Microsoft.
Sign up for our free e-mail list to see future vaticancatholic.com videos and articles.