lifesitenews.com
March 3, 2020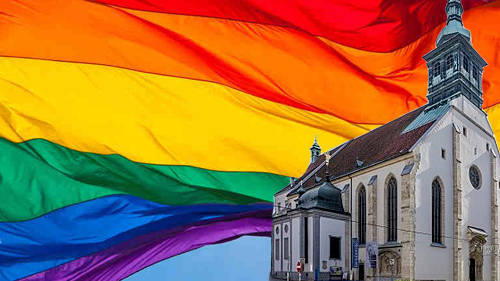 "The Austrian diocese of Graz-Seckau is hosting an event on March 14 promoting homosexuality. On the official website of the diocese, the event, 'Sexualities 2020: fact check,' is being advertised by showing the naked upper body of one man embracing the naked upper body of another from behind.
'Sexuality is important. And sometimes complicated,' the diocese states about the event on its website. 'Knowledge, attitudes, conventions, and experiences in this area are subject to major changes. In order to be able to accompany and support people in the Church context well, it is helpful to comprehend what various scientific disciplines are currently saying on these topics.'...
Alexander Tschugguel said various diocesan organizations in Austria focus on homosexuality. They are called DAHOP and are some sort of a diocesan task force, supposedly focusing on pastoral care for homosexuals.
In the diocese of Linz, DAHOP is hosting an event on March 20 called 'And God saw that it was good: Lesbian, Bisexual, and Gay people in the Church.'
According to the invitation, 'The Good News, whose core is love, does not distinguish people according to their sexual orientation!'...
'You are beloved children of God!... and... It's good the way you are!... is also and especially a message of the Catholic Church!' the website of the retreat center continues."
Sign up for our free e-mail list to see future vaticancatholic.com videos and articles.