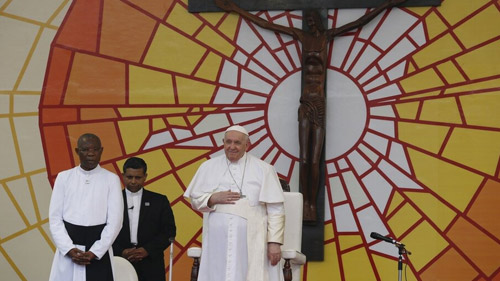 "In a novel in-air press conference with the head of the Church of England and the head of the Church of Scotland, Pope Francis repeated his remarks first made on January 25 about the need for an end to anti-sodomy laws.
Noting that some 50 countries have anti-sodomy laws, Francis said as he was returning from a six-day trip to Africa, 'The criminalization of homosexuality is a problem that cannot be ignored.'
While the laws criminalize behaviors and not inclinations, Pope Francis conflated the two concepts in his remarks, saying of the anti-sodomy laws: 'Persons with homosexual tendencies are children of God. God loves them. God accompanies them… condemning a person like this is a sin. Criminalizing people with homosexual tendencies is an injustice.'
Rt. Rev. Iain Greenshields, the Moderator of the Church of Scotland, which permits homosexual 'marriage' in their churches, praised Francis for his remarks, as did the Archbishop of Canterbury Justin Welby, the lead bishop of the Church of England, which permits homosexual blessings in their churches. 'I entirely agree with every word he said there… I shall certainly quote the Holy Father. He said it so beautifully and accurately,' Welby said.
In his January 25 remarks, Pope Francis said that the Catholic Church needs to be involved in the dismantling of laws that criminalize homosexuality and that the Catholic bishops of Africa and other places that have such laws need a 'conversion.'
The Pope's mounting pressure on Africa in particular comes at the same time as a heavy push from the West to have Africa embrace homosexuality. The pressure has come in the form of loans and grants being contingent on such moves."
Sign up for our free e-mail list to see future vaticancatholic.com videos and articles.