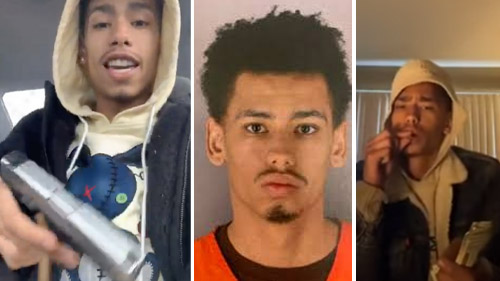 20-year-old Daunte Wright was shot dead by a Brooklyn Center Police Officer…
Officers learned there was a warrant out for Daunte Wright's arrest after they ran his information so they tried to cuff him.
Bodycam footage released on Monday showed that Daunte Wright resisted arrest and fled the scene.
Police were in the process of cuffing Wright when he broke free and jumped in his car.
The officer screamed, "Taser! Taser! Taser!" before she discharged her weapon.
Wright crashed his car after he tried to flee the scene.
Riots erupted all over the country Monday night in response to the shooting death of Daunte Wright after many falsely claimed he was pulled over because of his air freshener.
The media portrayed Wright as an innocent, young father, but he was a dangerous man who threatened to shoot a woman and had a warrant out for his arrest according to court papers obtained by The Daily Mail.
The court papers also reveal that online speculation that Wright may not have known about the warrant out for his arrest are false.
The Daily Mail reported:
Daunte Wright choked a woman and threatened to shoot her if she did not hand over $820 she had stuffed in her bra, court papers obtained by DailyMail.com allege.
Wright was due to face trial on a charge of attempted aggravated robbery – with a possible maximum sentence of 20 years in prison.
Charging papers say he and a second man, Emajay Driver went to a home shared by two women in Osseo, Minnesota 'to party' in December 2019. At the time, Wright was 19 and Driver was 18.
The women asked them to leave around 2.30 am on December 1, but they said they didn't have a ride and the women – who are not identified in the court documents – allowed them to sleep on the floor.
In the morning, one of the women went to the bank to get her $820 rent money which she gave to the other woman and then left for work. As Wright, Driver and the second woman were leaving, Wright allegedly tried to hold up the woman.
'The three of them were walking to the door to exit the apartment and defendant Wright turned around and blocked the door preventing victim from leaving,' says the report, written by Osseo Police Officer Shane Mikkelson.
'Defendant Wright then pulled a black handgun with silver trim out from either his right waistband or his right coat pocket and pointed it at victim and demanded the rent money,' continued Mikkelson.
'Victim said "Are you serious?" Defendant Wright replied: "Give me the ****ing money, I know you have it."
When the woman again asked him if he was serious, Wright is said to have replied: 'I'm not playing around.'
Mikkelson's report said: 'The $820 cash was tucked in the victim's bra and defendant Wright placed his hand around victim's neck and choked her while trying to pull the cash from under her bra.
'Victim was able to get loose from defendant Wright and started to kneel down and scream.'
After more yelling, Wright allegedly told the woman that he was going to shoot her unless he got the money.
'Give me the money and we will leave,' he allegedly said. 'Give me the money and we will go.'
Mikkelson added: 'Defendant Wright then tried to choke victim a second time and tried to take her money. Defendant Driver was telling her to give defendant Wright the money.
Sign up for our free e-mail list to see future vaticancatholic.com videos and articles.