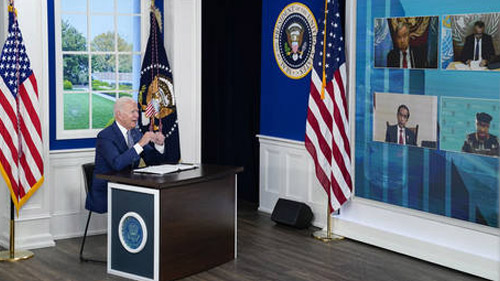 "The White House announced on Monday that the US, Germany, Belize, Indonesia and Senegal will host the second global Covid-19 summit in May. While the pandemic has been pushed from the headlines in recent months, the Biden administration said a summit is necessary to 'bring solutions to vaccinate the world, save lives now, and build better health security.'
The virtual summit will take place on May 12. Belize, as chair of the Caribbean Community; Germany, holding the G7 Presidency; Indonesia, holding the G20 Presidency; and Senegal as African Union Chair, will co-host the event.
'The emergence and spread of new variants, like Omicron, have reinforced the need for a strategy aimed at controlling Covid-19 worldwide,' read a statement from the White House. 'Together, we can mitigate the impact of Covid-19 and protect those at the highest risk with vaccinations, testing, and treatments, actions to minimize disruption to routine health services, and through support for the ACT-Accelerator multilateral mechanism,' the latter a reference to a World Health Organization (WHO) program for financing vaccines and treatment.
US President Joe Biden hosted a similar summit back in September, in which he called on world leaders to meet the WHO's goal of vaccinating 70% of the world's population...
However, the Biden administration still considers a summit necessary to get 'shots into arms' and raise 'sustainable financing for pandemic preparedness, health security, and health systems.'"
Sign up for our free e-mail list to see future vaticancatholic.com videos and articles.