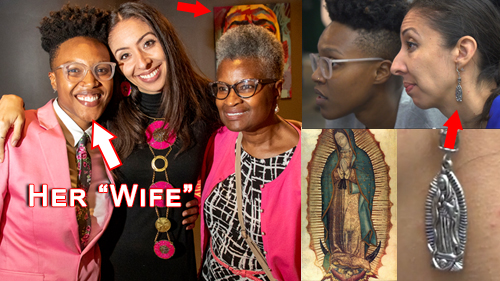 "Do you agree that business owners with light skin should be punished in favor of business owners with dark skin? Candi CdeBaca, a 'Democrat Socialist' city councilwoman from Denver's District 9 believes this is the right thing to do.
Speaking this week about her plans to help black and brown business owners get ahead of white business owners, CdeBaca suggested adding a special white tax throughout the city of Denver, the proceeds of which would be handed over to blacks and browns.
CdeBaca's race-based tax scheme is making the rounds on social media for its blatantly anti-white prospects. CdeBaca, who appears to be Hispanic, claims that black and brown business owners throughout Denver need a leg up in the form of stealing from white business owners.
'Capitalism was built on stolen land, stolen labor, and stolen resources,' CdeBaca complained during the meeting, which you can watch below. 'You could be collecting those extra taxes from white-led businesses all over the city and redistributing them to black and brown-owned businesses.'
CdeBaca is apparently unfamiliar with the United States Constitution, as many leftists are, and those pesky little provisions it contains that outlaw this type of race-based taxation. In defense of her plan, CdeBaca claims that the illegal tax would be 'voluntary,' just like the federal income tax supposedly is, thus making it legal in her mind.
A spokesperson for Denver's Department of Finance quickly corrected CdeBaca's embarrassing false claim, stating unequivocally that 'non-residentially assessed property owners within the BID are required to pay the additional taxes and fees – it's not voluntary.'
So not only is CdeBaca a liar, but she is also pushing an illegal race-based tax that by its very nature embodies a form of skin color-based communism, which makes sense for the area of Denver she represents."
Sign up for our free e-mail list to see future vaticancatholic.com videos and articles.