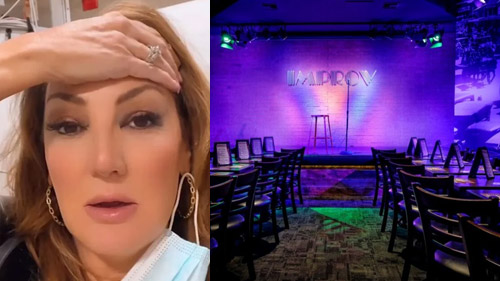 "Onlookers who saw Heather McDonald collapse on stage after she bragged about taking the booster shot thought it was part of her act, but the comedian had to be rushed to hospital.
'I'm vaxxed, double vaxxed, boosted … and flu shot and shingle shot and haven't gotten COVID...' said McDonald during a show in Tempe, Arizona...
The audience thought the dramatic collapse was part of a skit, but it was no laughing matter.
'As soon as she delivered the joke, she just collapsed and hit her head on the floor,' reports TMZ. 'Everyone thought at first it was all part of the act, but it was not. She was conscious, but clearly, all was not well. An EMT and a nurse happened to be in the audience … they rushed up on stage to provide first aid.'
'I got up, I did one joke and I felt so dizzy,' McDonald said. You can see my eye, I fell on my eye'... suffering a skull fracture..."
Sign up for our free e-mail list to see future vaticancatholic.com videos and articles.