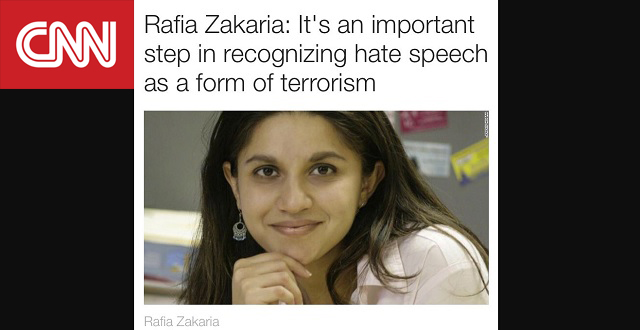 According to CNN opinion contributor Rafia Zakaria, the banning of Alex Jones and Infowars was the first step towards criminalizing "hate speech" as "a form of terrorism."
From CNN, "Rafia Zakaria: It's an important step in recognizing hate speech as a form of terrorism":
The stripping of InfoWars from Facebook, Apple and other platforms is an important step in the recognition of nativist, nationalist and white supremacist hate speech as a form of terrorism.
Zakaria CNN piece continues:
Sadly, domestic terrorism, or Jones' dangerous speech, in which he claims that he is in a holy war against Islam, is not prosecuted under that statute. This is a failing that has permitted the proliferation of platforms such as InfoWars, their presence on popular platforms a legitimization of sorts for their content.
This new decision is a step forward in recognizing that hate outlets, such as InfoWars, are complicit in domestic terror, and a relief to Muslim-Americans, like myself, who have been the target of online assaults and threats.
Sign up for our free e-mail list to see future vaticancatholic.com videos and articles.