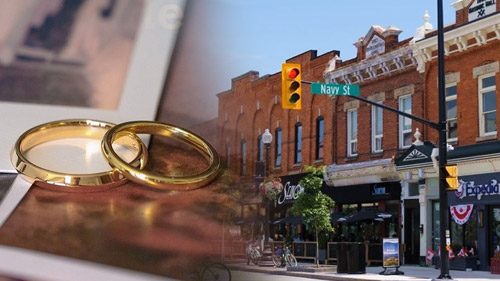 "COVID-panicked officials around the world have run wild setting vaccination requirements for people to live their lives.
In the United States, the newest agenda point has been to demand people show proof of vaccinations in order to keep their jobs, a fight that's already moved into the courts in a number of jurisdictions.
Also at issue are medical procedures that some hospital systems simply refuse to provide to patients if they are not vaccinated.
But one Canadian municipality is leaving such requirements in the dust: It is requiring proof of vaccination in order to get a marriage license.
It is Oakville, Ontario, that demands "proof of identification and proof of full COVID-19 vaccination" or a confirmed medical exemption before someone is allowed into a recreation or culture facility, including arenas, community centers, pools, and many more.
'Appointments for marriage licenses and ceremonies that have already been booked prior to September 22 will not require proof of full vaccination, however any new appointments for marriage licenses and ceremonies will be required,' the town announced.
A blog posting at ZeroHedge said, 'After Prime Minister Justin Trudeau's Liberal Government imposed one of the most restrictive vaccine mandates in the developed world, one Canadian town has taken medical tyranny to the next level by refusing to grant marriage licenses to couples that aren't fully vaccinated.''
Sign up for our free e-mail list to see future vaticancatholic.com videos and articles.