davidduke.com Jewish organizations have been the leaders of the legal fight to ban Christian Christmas symbols from American public life. The largest Jewish organizations in America such as the American Jewish Committee, has financed and sponsored numerous lawsuits saying that Christian Manger scenes and Christian crosses cannot be erected on any public ground. Even though such has been permitted during the entire history of the United States, they claimed these displays were harmful to Jews. They have also successfully banned Christmas Carols in schools and created the newspeak of "Winter Holidays" instead of "Christmas Holidays." With the media overwhelmingly owned and run by Jewish tribalists, and with the American political and judicial system thoroughly run by Jewish money and Jewish influence, they completely banned any Christian Christmas celebration from any public ground and in any public institution.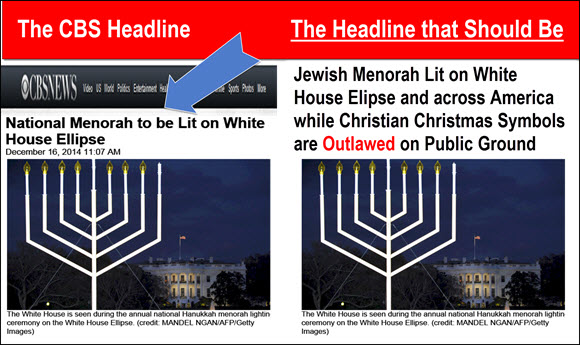 At the very same time they successfully banned Christian Christmas commemoration, Jewish extremist groups such as Chabad Lubavitch began to put up thousands of Jewish Menorahs up on public ground across America. Including a giant Menorah right across from the White House. It is proudly labelled in the Headlines of CNN and CBS as the National Menorah! Not only would a Christian manger scene or cross not be labelled the National Nativity Scene, such is outlawed in the United States! What kind of Talmudic logic did our Jewish dominated political system use to justify the placing of Jewish Menorahs in thousands of public places? They claimed it was simply a secular symbol and not a religious symbol. So, we are told that the oldest symbol of Judaism is not a religious symbol! All this while rabbis perform the traditional Jewish religious ritual of lighting the Menorah. Yet, not a single newspaper or media broadcast dares to point out the hypocrisy of banning Christian Christmas symbols but allowing Jewish religious Symbols and calling the Jewish Menorah the "National Menorah!" The legal argument was "separation of church and state." That even though the vast majority of Americans are Christian and even though Christian Christmas celebrations have been an intrinsic part of American and Western traditions and culture, they must be banned because no religious symbols can be allowed. Yet, no one can seriously argue that the Menorah is not the oldest symbol of the religion of Judaism just as the cross is the oldest symbol of Christianity. The lighting of the Jewish menorah on public ground across America is carried out  under strict Jewish law, just as it was yesterday in front of the White House on public ground. According to an article in CNN, the 30-foot menorah stands high enough to be seen from afar, and its height is regulated under Jewish law. "It's got to be visible, so it has to be at least two and a half feet off the ground minimum, and not higher than 30 feet, because the rabbinical authorities deem that to be the height at which a person has to crane their neck to see it," a leading Jewish Supremacist religious leader said.
Sign up for our free e-mail list to see future vaticancatholic.com videos and articles.