Jessica Elgot huffingtonpost.co.uk "The Christian owners of a B&B have been ordered Britain's highest court to pay damages to a gay couple who they turned away from their inn. Peter Bull, 74, and his wife Hazelmary, 69, had asked the Supreme Court to decide whether their decision to refuse to let Martyn Hall and his civil partner Steven Preddy stay in a double room constituted sex discrimination under equality legislation. Bull said after the ruling: "We are deeply disappointed and saddened by the outcome."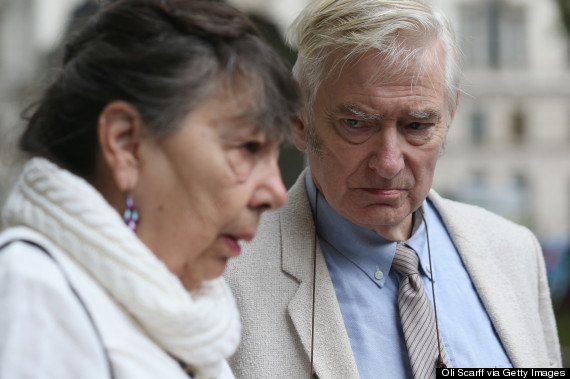 Christian guesthouse owners Peter and Hazelmary Bull arrive at the Supreme Court His wife said in a prepared statement: "We are deeply disappointed and saddened by the outcome." "We are just ordinary Christians who believe in the importance of marriage as the union of one man and one woman. "Our B&B is not just our business, it's our home. All we have ever tried to do is live according to our own values, under our own roof." The couple have previously lost fights in a County Court and the Court of Appeal, and five Supreme Court justices ruled against them on Wednesday. The Bulls said they thought that any sex outside marriage was ''a sin'' - and denied discriminating against Hall and Preddy, calling it a ''religiously-informed judgment of conscience''. All five judges, Lord Neuberger, Lady Hale, Lord Kerr, Lord Hughes and Lord Toulson, dismissed the appeal. Lady Hale, deputy president of the Supreme Court, said: "Sexual orientation is a core component of a person's identity which requires fulfilment through relationships with others of the same orientation." Homosexuals "were long denied the possibility of fulfilling themselves through relationships with others", she said, adding: "This was an affront to their dignity as human beings which our law has now (some would say belatedly) recognised. "Homosexuals can enjoy the same freedom and the same relationships as any others. But we should not under-estimate the continuing legacy of those centuries of discrimination, persecution even, which is still going on in many parts of the world." to read more click here: huffingtonpost.co.uk
Sign up for our free e-mail list to see future vaticancatholic.com videos and articles.