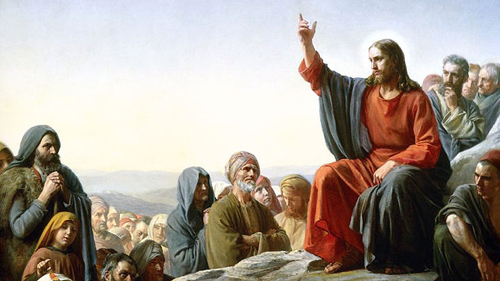 Many Protestants hold that Christ is not a lawgiver who must be obeyed. The New Testament teaches otherwise.
Galatians 6:2- "Bear one another's burdens, and in this way you will fulfill the law of Christ."

James 2:8- "If you really fulfill the royal law according to the Scripture, 'You shall love your neighbor as yourself,' you are doing well."

James 2:12- "So speak and so act as those who are to be judged under the law of liberty."

1 Corinthians 7:19- "For neither circumcision counts for anything nor uncircumcision, but keeping the commandments of God."

Matthew 19:16-17- "And behold, a man came up to him, saying, 'Teacher, what good deed must I do to have eternal life?' And he said to him, 'Why do you ask me about what is good? There is only one who is good. If you would enter life, keep the commandments.'"

Romans 2:6-8- "He will render to each one according to his works: to those who with endurance in well-doing seek for glory and honor and immortality, he will give eternal life; but for those who are self-seeking and do not obey the truth, but obey unrighteousness, there will be wrath and fury."

John 3:36- "He who believes in the Son has everlasting life: and he who disobeys the Son shall not see life, but the wrath of God abides on Him."

John 8:51- "Amen, Amen, I say to you, if anyone keeps my word, he will never see death."

John 14:15- "If you love me, keep my commandments."

John 15:14- "You are my friends if you do what I command you."

Hebrews 5:9- "… he became the source of eternal salvation to all who obey him."

2 Peter 2:20-22- "For if, after they have escaped the defilements of the world through the knowledge of our Lord and Savior Jesus Christ, they are again entangled in them and overcome, the last state has become worse for them than the first. For it would have been better for them never to have known the way of righteousness than after knowing it to turn back from the holy commandment delivered to them. What the true proverb says has happened to them: 'The dog returns to its own vomit, and the sow, after washing herself, returns to wallow in the mire.'"

1 John 3:24- "Whoever keeps his commandments abides in God, and God in him."

1 John 2:3- "We know that we have come to know him if we keep his commands."
Christ must be obeyed for salvation. Christ's laws include believing in the true Catholic faith, being baptized, obeying the ten commandments of God and the laws of His Catholic Church, avoiding grave sins such as fornication, adultery, drunkenness, looking at pornography, masturbation, murder, etc. See Gal. 5 and 1 Cor. 6 for other examples of mortal sins that send people to Hell.
Council of Trent, Sess. 6, Canon 21 on Justification: "If anyone shall say that Christ Jesus has been given by God to men as a Redeemer in whom they should trust, and not also as a lawgiver, whom they should obey: let him be anathema."
Sign up for our free e-mail list to see future vaticancatholic.com videos and articles.