theblaze.com
July 21, 2020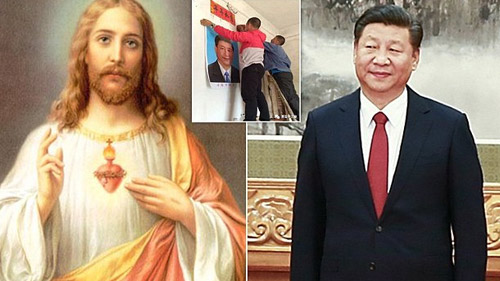 "The communist Chinese government is ordering some Christians to take down religious symbols, including crosses, crucifixes, and images of Jesus Christ, and to replace them with communist leaders, according to a new report.
'All impoverished households in the town were told to display Mao Zedong images,' said a local pastor to Bitter Winter.
'The government is trying to eliminate our belief and wants to become God instead of Jesus,' he added.
The order was made in April when communist party officials visited believers' homes in the city of Linfen, located in the northern province of Shanxi.
The officials said that those who were receiving financial assistance from the government would have to take down their religious symbols and replace them with portraits of Chairman Mao and President Xi Jinping. If they refused to do so, they could face the loss of their welfare benefits.
One villager recounted that officials tore down the Christian images in his home and replaced them with a portrait of Mao Zedong.
The believer quoted the official as saying, 'Impoverished religious households can't receive money from the state for nothing — they must obey the Communist Party for the money they receive.'
The report went on to document several instances where believers lost their support and benefits from the state merely for expressing religious sentiments or displaying religious symbols."
Sign up for our free e-mail list to see future vaticancatholic.com videos and articles.