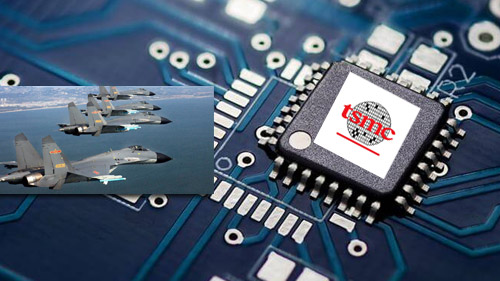 Thirst for the world's lead-edging microchips could be a driving force for Beijing wanting to take over self-ruled Taiwan, U.S. researchers warned.
Taiwan is the home to some of the world's largest and most advanced semiconductor plants, including the world's largest contract chipmaker, Taiwan Semiconductor Manufacturing Corporation (TSMC).
"Currently, there is no more important base of IC [Integrated Circuit] capacity and production than Taiwan," stated U.S.-based research company IC Insights in a statement (pdf).
"China has a huge problem with its inability to produce leading-edge IC devices for its future electronic system needs—a problem that it believes can be solved through reunification with Taiwan by whatever means necessary."
Earlier this month, Chinese leader Xi Jinping vowed to achieve reunification with the democratic island, for the sake of "preserving its sovereignty," despite never ruling the country.
Researchers said Beijing has been yearned for the island's capacity to make the world's top-level computer chips.
China, being the world's largest chip importer, sits at the lower end of the semiconductor value chain...
Be it washing machines, electronic devices, or fighter jets, millions of products nowadays depend on computer microchips, also known as semiconductors, to power electronics. Smaller chips come with better performance yet require more advanced technologies and equipment to make.
Research by IC Insights finds Taiwan and Korea are the only two countries able to produce chips below 10 nm, or one-hundredth of a micrometer. Led by TSMC, Taiwan by far holds the largest (63 percent) share of the leading-edge technology in the world, as South Korea-based Samsung holds the remaining 37 percent, data show.
The prolonged pandemic-induced global chip shortage has spotlighted the economic and strategic importance of Taiwan in chipmaking...
The island's dedicated independent semiconductor foundries are forecast to represent almost 80 percent of the total worldwide pure-play foundry market in 2021, according to IC Insights reports.
Sign up for our free e-mail list to see future vaticancatholic.com videos and articles.