lifesitenews.com
January 13, 2020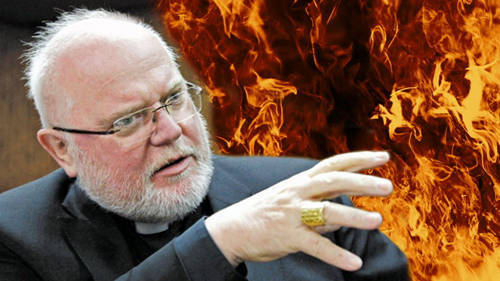 "Cardinal Reinhard Marx – the archbishop of Munich-Freising and the head of the German Bishops' Conference – just made a statement, in which he argued against spreading fear, saying: 'wherever someone spreads fear – of hell or whatever else – the Gospel cannot have an effect.'
He added with regard to the topic of religion and its relation to peace that 'sometimes one has to say: stop the religion!'
Marx spoke these words during a discussion forum 'Augsburger Friedensgespräche' in Augsburg, which is dedicated to the matter of peace...
Cardinal Marx added in his own remarks that 'we do not wish to change the society of freedom.' One should not exclude someone, only because he is not going to church every Sunday. 'Wherever someone spreads fear – of hell or whatever else – the Gospel cannot have an effect,' he added...
The event in Augsburg was titled 'Does Peace Need the Churches?' Cardinal Marx and Bishop Bedford-Strohm – who are close allies and friends – had caused a controversy when they removed their crosses while visiting the Jewish Wailing Wall as well as the Muslim Dome of the Rock on the Temple Mount in Jerusalem in October of 2016. Many critics at the time saw that these two major Christian leaders in Germany seemed to lay down the cross in the very city where Jesus Christ had picked up His Cross. For one Jewish commentator, this action showed signs of 'submission or self-denial.'...
The Catholic Church in Germany is just about to start a German 'Synodal Path' questioning the Church's teaching on female ordination, homosexuality, and celibacy."
Sign up for our free e-mail list to see future vaticancatholic.com videos and articles.