lifesitenews.com
February 13, 2020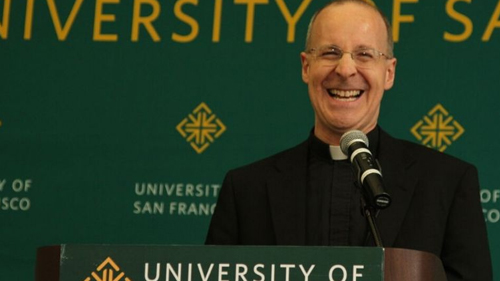 "At a meeting in the nation's capital, Fr. James Martin, S.J. – the most prominent clergyman arguing for the normalization of homosexuality and transgenderism within the Church – addressed 150 Catholic college and university presidents, urging them to promote 'inclusion' on their campuses by promoting 'LGBT-affirming liturgies,' permitting students to choose their own pronouns, and holding 'Lavender Graduations.'
Martin offered his remarks at the annual meeting of the Association of Catholic Colleges and Universities (ACCU), where school presidents were joined by nearly 200 top staff for a three-day conference at D.C.'s swanky Ritz-Carlton Hotel.
ACCU President Fr. Dennis H. Holtschneider said the group 'welcomed Martin very warmly,' according to The Washington Post.
Holtschneider told the group that the session was not about 'challenging Church teaching' but about 'delving into it.'
Jim Towey, past president of St. Vincent College and Ave Maria University – two schools with reputations as orthodox Catholic institutions – expressed receptivity to Fr. Martin's message.
The 'perception by some of Pope Francis's openness on LGBT outreach,' indicates that 'there is a shift underway,' Towey told the Post. 'Martin's talk could signal the beginning of a larger debate on these contentious issues.'...
Last summer, the alumni publication of Mount St. Mary's University, a Catholic institution in Maryland which until recently was seen as a bastion of orthodoxy, included for the first time an 'engagement' announcement for a same-sex couple...
Martin asserted that treating same-sex attracted and gender-confused students with 'respect, compassion, and sensitivity,' requires using pronouns that do not correspond with reality and enshrining 'sexual orientation and gender identity' into nondiscrimination policies.
He argued:
Calling people by the names and pronouns they choose is part of respect;
Providing L.G.B.T.-inclusive benefits reflects compassion;
Including sexual orientation and gender identity in nondiscrimination policies shows sensitivity.
Martin proposed:
Highlighting L.G.B.T. faculty and staff as role models;
Introducing L.G.B.T.-affirming spiritualities, theologies, liturgies;
Following the example of a Catholic school which has a Lavender Graduation, where L.G.B.T. faculty and staff wear purple stoles over their academic regalia;
Allowing transgender students to 'live in housing that matches their gender identity';
Ensuring that school health insurance should cover gender 'transition'-related services;
Ensuring that students can change their names/gender on records, and that faculty members use the student's preferred name and pronouns...
Fr. Martin's lengthy record of pro-gay activism ranges from his many speeches and media appearances promoting homosexuality to his retweeting of a complaint that priests can't 'bless' gay unions to suggesting that the Church is full of 'homophobia' and 'marginalizes' the same-sex attracted.
He supports gay men kissing each other during the sign of peace at Mass, says that a Catholic attending a same-sex 'wedding' is like attending a Jewish wedding, and suggests that his critics are secretly gay themselves.
The Jesuit says homosexual priests should 'come out' about their sexual proclivities, but has publicly declined to say whether he himself is gay.
In 2018, he told participants at the World Meeting of Families in Ireland that active homosexuals 'should be invited into parish ministries' specifically mentioning them becoming 'eucharistic ministers' in order to make them welcomed and accepted in the Catholic Church."
Sign up for our free e-mail list to see future vaticancatholic.com videos and articles.