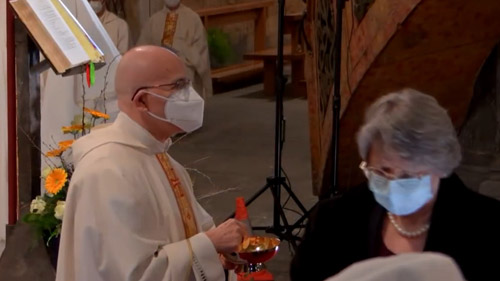 "A Catholic bishop in Switzerland has defended giving Holy Communion to two Protestant church representatives and a Protestant politician at his installation Mass.
Responding to CNA's request for comment, Bishop Joseph Bonnemain's office offered a short statement March 22, pointing to Canon 844 §4 of the Church's Code of Canon Law...
The episode was first publicized by the Swiss bishops' media outlet, kath.ch, which reported that 'in the presence of [Vatican Cardinal Kurt Koch], Joseph Bonnemain gave Holy Communion to three senior Reformed [Swiss Protestant] personalities: the president of the Swiss Protestant Reformed Church, Rita Famos; the president of the Zurich church council, Michel Müller; and Zurich government councilor Mario Fehr.'"
Sign up for our free e-mail list to see future vaticancatholic.com videos and articles.