This is a truly revealing video.  It features two 'priests' of the 'Diocese' of Rockford, IL behaving in a totally disgraceful way.  The video speaks for itself, but a few things are worthy of special note:
• Notice the promotion of gluttony in the first minute of the video.
• Notice the promotion of pagan music about 'something magical in the air' and 'in my blood', and that people can act without reason or control.
• Notice that the driver (a 'priest' in the Vatican II sect) appears to mock the sign of the cross at approximately 2.55-3.00.
• Notice that one of the 'priests' displays the devil's horns from 3.09 to 3.12.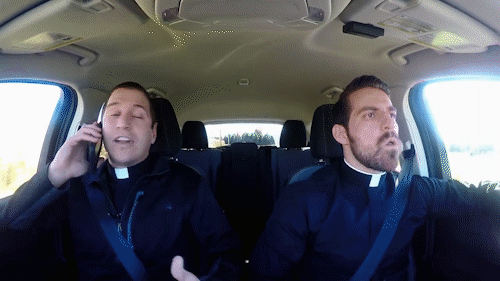 • Also consider that this video is officially promoted and endorsed by the Vatican II sect's 'Diocese' of Rockford, Illinois.  This is what they are presenting to the world.  It's another example of how the end-times beast (which includes the Counter Church) has taken control of the Church's physical structures, through which it promotes its paganism, false religion, and godlessness to the world.
• It's also interesting that the video has received almost totally positive reviews, including from many who claim to be Catholic.  It's another example of the apostasy of our age, and how almost all people go to Hell.
Sign up for our free e-mail list to see future vaticancatholic.com videos and articles.